Awards & Accolades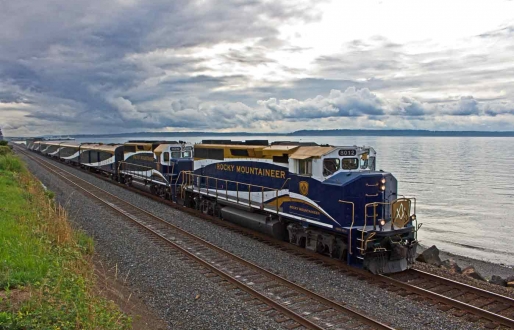 Known as one of the only ways to see the Rocky Mountains and experience stunning scenery, fine dining, and unparalleled service in one complete package, it's no wonder that Rocky Mountaineer has received numerous international awards and accolades for service excellence. 
World Travel Awards
"World's Leading Travel Experience by Train." - World Travel Awards
National Geographic
"Named as one of the World's Greatest Trips." - National Geographic
Lonely Planet
"One of the World's Ultimate Experiences." - Lonely Planet
Deloitte Award
Rocky Mountaineer received the Gold Standard recognition in 2018, having been named one of Canada's Best Managed Companies annually since 2015.
Canada's Top Small & Medium Employers
Rocky Mountaineer has been named one of Canada's Top Small and Medium Employers every year since 2015 and one of BC's Top Employers since 2018.
Private Business Growth Award
Rocky Mountaineer was named the winner of the Canadian Chamber of Commerce and Grant Thornton LLP 2017 Private Business Growth Award for its achievements in strategic, sustainable and holistic growth.
Outside
"One of the Great Train Rides of the World." - Outside
Mail Online
"Not surprisingly, the Rocky Mountaineer has climbed towards the top of the list of Things To Do Before You Die." - Mail Online
USA Today
"The Rocky Mountains offer some of the most rugged terrain in North America, and although they can be explored by road, taking a train trip is the better way to truly soak in the scenery." - USA Today
Society of American Travel Writers
"The Best Train Experience in the World." - Society of American Travel Writers
Frommer's
"This sleek blue train winds past foaming waterfalls, ancient glaciers, towering snowcapped peaks and roaring mountain streams." - Frommer's
Travvy Award Winner
Rocky Mountaineer took home the gold in Best Rail Experience, Worldwide at the 2017 Travvy awards.
Buzzfeed
"Arguably some of Canada's most scenic railways, the four routes conducted by the Rocky Mountaineer offer sweeping views of the Canadian Rockies"
- BuzzFeed
The Telegraph
"You could take the train just to stare out at the wild beauty of the Canadian west while tucking into three-course meals- but there's plenty more on offer in 65 holidays including accommodation and tours."
- The Telegraph