When you travel on a train journey with us, you'll experience more than just a relaxing trip; you'll experience a journey that will engage all of your senses. From the sights, the sounds, and the sensational tastes – your Rocky Mountaineer journey will be one to remember.
But what makes it so unique? Our GoldLeaf coaches stand tall and are world-renowned in luxury travel. We're here to tell you five reasons why our GoldLeaf Service is a bucket-list must.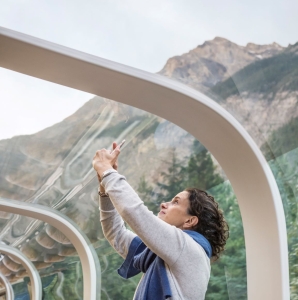 GLASS-DOME WINDOWS
When you first arrive onboard to find your seat, your eyes will naturally be drawn to the impressive glass-dome windows. With panoramic views, you can sit back, relax, and enjoy the journey without missing a moment. Our GoldLeaf glass-dome windows include an impressive 70% UVA and UVB protection as well as 64% solar heat rejection to ensure a comfortable journey through the mountains.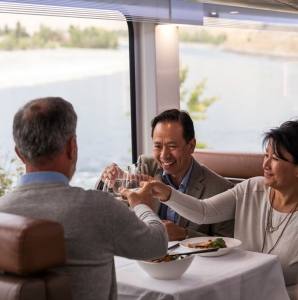 BI-LEVEL LUXURY
While SilverLeaf Service is on a single-level coach, our GoldLeaf Service offers two levels so you can enjoy an elevated view with more oversized windows. When it's time to eat, travel downstairs and indulge in 3-course gourmet plated meals from the comfort of the dedicated dining room.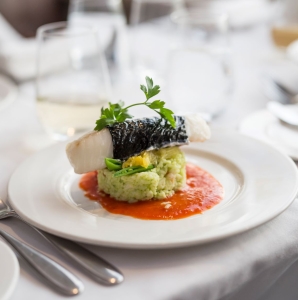 DELECTABLE DELIGHTS
Savour every second as you enjoy elegantly plated meals prepared onboard with locally sourced ingredients. With breakfast, lunch, gourmet snacks, and drinks all included in your journey, your taste buds will be treated to some of the best Pacific salmon, Albertan beef, and more.
It's important to note; we also cater to a variety of dietary restrictions and allergies to ensure all guests have an unforgettable culinary experience. During the booking process, be sure to indicate any dietary restrictions to our Vacation Consultants to update your booking with these details so that the onboard chefs can prepare you something special.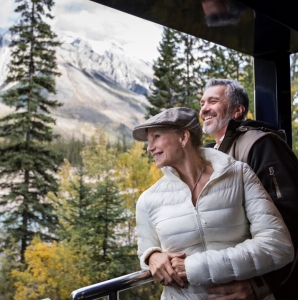 OUTDOOR VIEWING PLATFORM
One of the standout features of our GoldLeaf Service is the exclusive outdoor viewing platform that helps you get even closer to the spectacular scenery. This is a great place to enjoy some fresh mountain air and watch the journey pass you by. The outdoor viewing platform is also the perfect opportunity to capture photos of the views and wildlife along the way.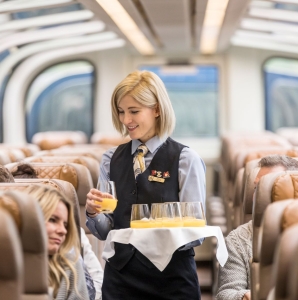 AWARD-WINNING SERVICE
Our amazing onboard hosts make every journey one to remember regardless of service level. From entertaining you with stories about passing landmarks to topping up your glass with bubbles and calling out wildlife sightings - you can rest assured that everything will be taken care of.
At this time, our GoldLeaf Service is available on our Canadian routes only. Whether it's our most popular journey, First Passage to the West that travels through the Canadian Rockies,  Journey Through the Clouds that travels to Jasper, or a Circle Journey that incorporates both routes - there's plenty to see while relaxing in the comfort of the reclining, heated, leather seats.