An abundance of fresh ingredients – and remarkable scenery – inspire outstanding local dishes in Banff, Lake Louise and Jasper
The Canadian Rockies represent a kind of culinary sweet spot, sandwiched between British Columbia, with its bounty of seafood and celebrated vineyards, and Alberta, home to 40 per cent of Canada's beef production and many of its agricultural crops. The abundance of fresh ingredients in the region has inspired area chefs and local restaurants to create a host of outstanding culinary experiences for their guests.
Jasper
In Jasper, Alberta, reservations at the Tekarra Restaurant are coveted. Founded in 1952, the so-called 'cabin in the woods' draws crowds with signature items like local bison and beef, Arctic char and fried chicken. Also in Jasper, Syrahs is another great option for the foodie in your group. Its menu boasts a number of unique and mouth-watering items, from elk carpaccio to white chocolate and goat's cheese cheesecake, and a long list of gluten-free dishes.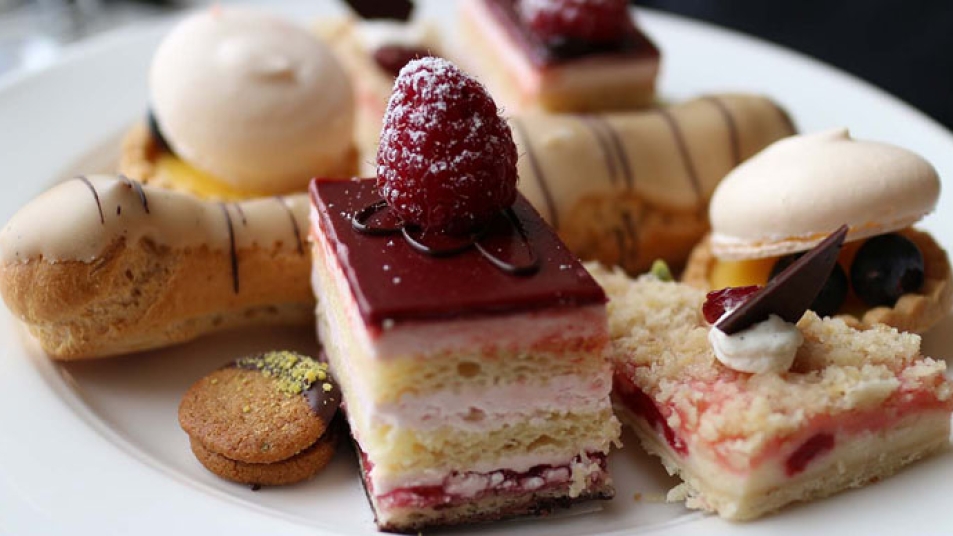 Afternoon Tea at the Fairmont Chateau Lake Louise. Image: Elsie Hui (CC By 2.0)
Lake Louise
In Lake Louise, Alberta, diners flock to restaurants with mountain views, including the Lake Agnes Tea House – accessible by a moderate, half-day hike, or horseback trail ride – with its homemade breads, soups and sweets, or the stylish Fairview located in the Fairmont Chateau Lake Louise, which features an extensive collection of Canadian wines.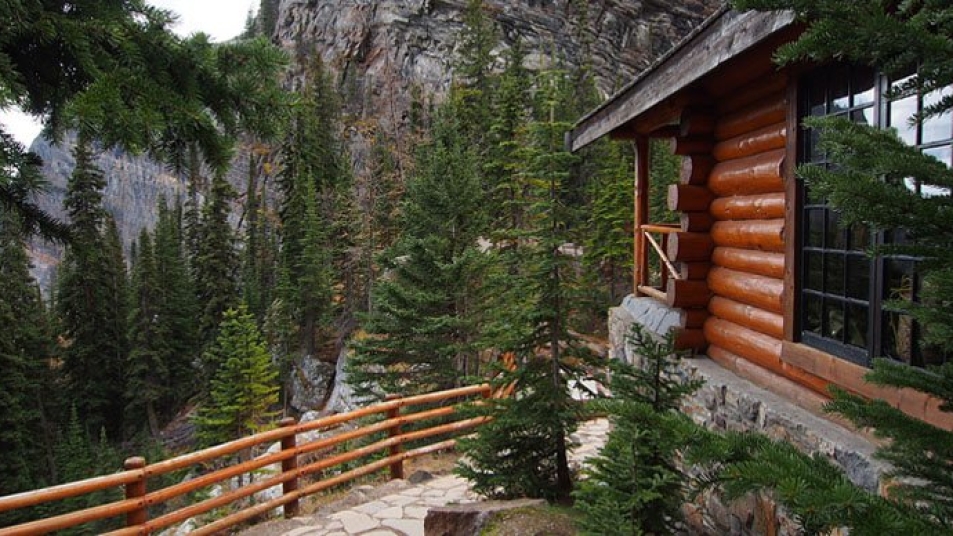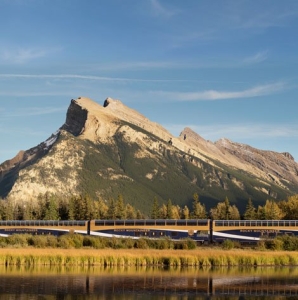 But the beautiful mountain town of Lake Louise doesn't have exclusivity on dining rooms offering stunning scenery, of course. Take Sky Bistro, for example, perched on the summit of Banff's Sulphur Mountain in Alberta. While diners must take the Banff Gondola to get there, the culinary fare is well worth the trip. The world-class menu puts Canadian cuisine front and centre with dishes featuring venison, bison, B.C. clams, Arctic char and Alberta pork belly on its menu. The views of Banff at 2,900 feet are extraordinary whether patrons dine while the sun sets or under starry skies.
Back at Banff's main drag, food pairs nicely with a lesson on spirits. The Park Distillery Restaurant and Bar offers free, behind-the-scenes tours highlighting the craftsmanship that goes into their offerings, made from glacial water and Alberta grain. Patrons can try tasting small-batch vodka, gin or rye alongside "campfire cuisine" of spit-roasted chicken, smoky St. Louis-style ribs (with locally made BBQ sauce) or wood-fire grilled hot dogs.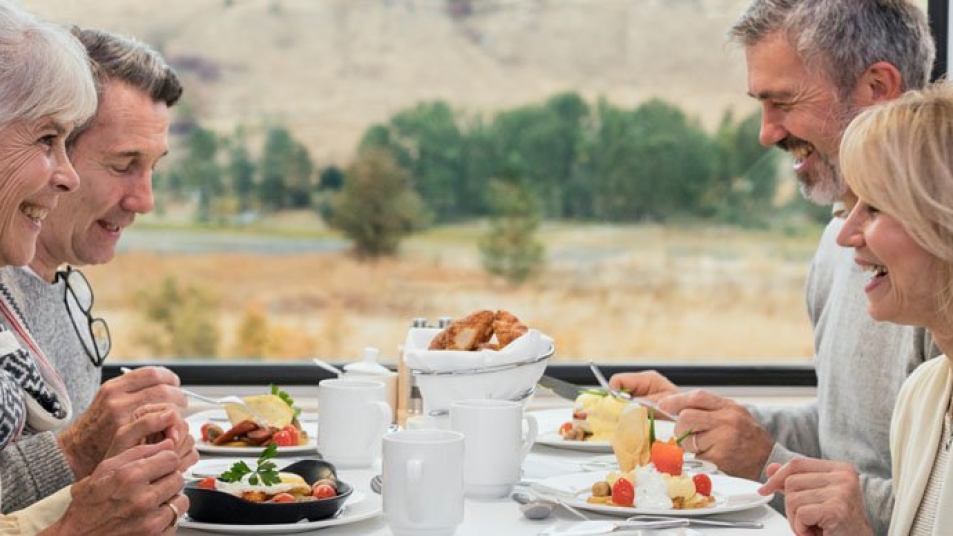 Onboard Rocky Mountaineer
For many visiting foodies, dining on a luxury train is near the top of their to-do list. With a five-star reputation for Canadian fare with a Western flair, guests can look forward to their dining experience almost as much as the beautiful scenery passing by their enormous windows.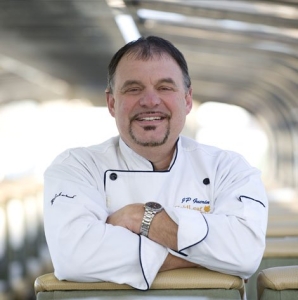 The challenge of cooking on a train is the responsibility of our Executive Chef Jean Pierre Guerin.
Small miracles are performed daily as Guerin and his team of about 80 creates beautifully presented dishes in incredibly narrow kitchen galleys. For safety reasons, they're restricted from using deep fryers or open flames.
No matter. For Guerin and his team, concocting delicious dishes such as slow-roasted Alberta pork loin, tender Fraser Valley, B.C. chicken, and Pacific Coast cod is all in a day's work.
"I love to walk through our dining rooms and see the smiles on our guests' faces," he says. "It's gratifying to see that. Our guests have high expectations, so we designed a menu that reflects fresh, regional ingredients. We like to see clean plates at the end of the meal. It's very rewarding."
At the start of every season, the team takes into account all guest comments before designing the upcoming menu. Guerin knows that some dishes will always be on the roster. "Our braised Alberta beef short ribs and salmon are super popular," he says. "You can't come west and not have them, so they're not going anywhere. We pride ourselves on offering something for everyone."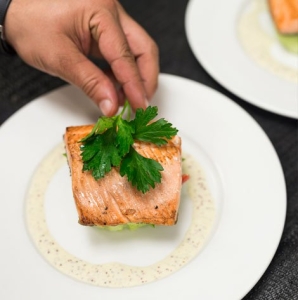 While the classics stay put, Guerin likes to introduce new dishes to keep up with changing tastes. Local ingredients – like fresh produce from the Fraser Valley or albacore tuna loin sourced off Vancouver Island – are a constant source of inspiration.
So much so that in 2013, the team put together a cookbook, Eat Play Love, which features recipes for the elegant Canadian dishes served on the luxury train.
While Guerin is always on the lookout for new items to add to the menu, any additions must meet Rocky Mountaineer's high standards of excellence.
"Once we decide to introduce something, we have to find the right ingredients locally," Guerin says. "Then there's three to four weeks of intensive training for the culinary team to make sure the dish meets our expectations of high quality. We focus on each preparation to get it absolutely perfect."