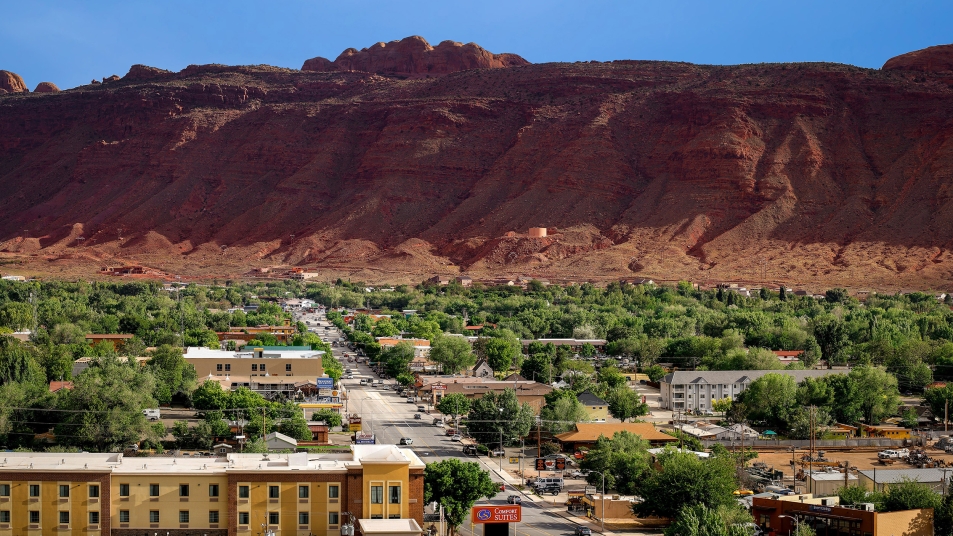 Wondering what to do in Moab? Situated in the sandstone surrounds of canyon country in Eastern Utah, Moab is a small town with a big personality. Adventure awaits with plenty of fun things to do in Moab - from sightseeing and soft adventures to more strenuous hikes and activities within easy reach of the town centre. If you're looking for day trip ideas, you'll find Arches National Park, Canyonlands National Park, and Dead Horse Point State Park within 30 minutes of Moab.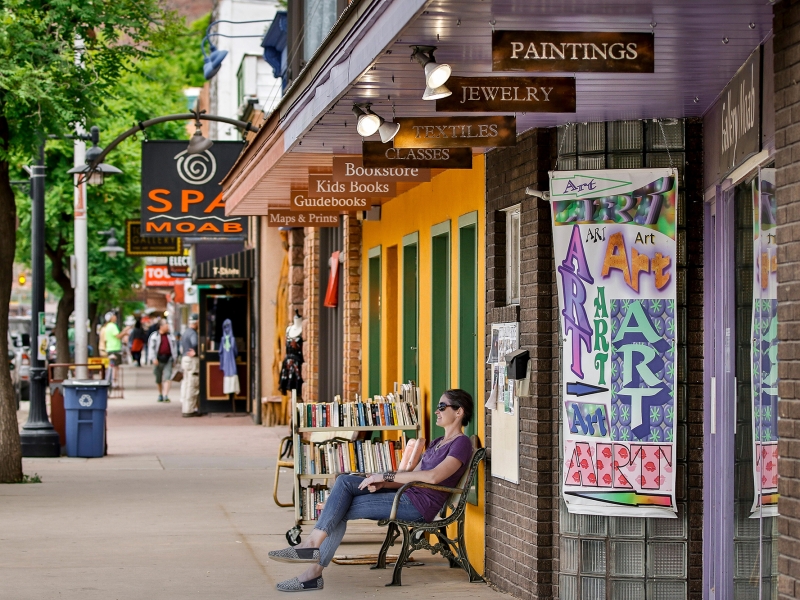 Appreciate art in the heart of town
Moab's canvas of stunning sunrises and sunsets over sandstone scenery, combined with a natural landscape awash with colour, has long inspired and attracted artists. Vist local co-op galleries such as Main Street's Gallery Moab to discover local artists or simply take a stroll through the sunny streets to get inspired by outdoor art exhibits.  Sign up for classes and workshops at Moab Arts & Recreation Center (MARC), which can be found in a converted church downtown.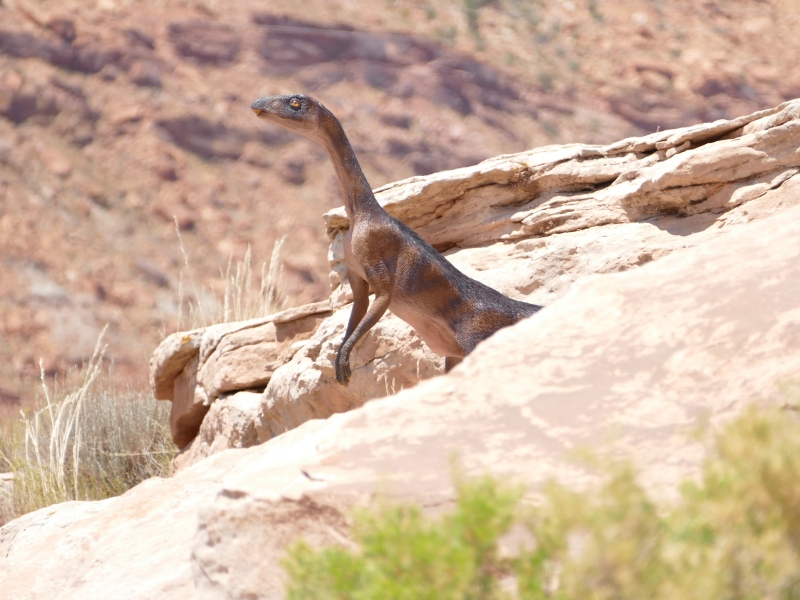 Dip into desert history & culture
Visit Moab Museum to find out more about the Indigenous people who lived in the area as well as learning more about the dinosaurs that roamed the region.  Take a 15-minute drive to Kane Springs Road to see the ancient rock art of the 'birthing scene petroglyph' etched into a giant sandstone boulder (look, don't touch!). Dinosaur fans can wander the desert trail through the  Moab Giants Dinosaur Park to see life-sized models,  take a short two-mile loop hike on the Mill Canyon Dinosaur Trail to see fossilized dinosaur tracks, or trek the more strenuous Mill Canyon Dinosaur Trail to see fascinating preserved skeletal remains.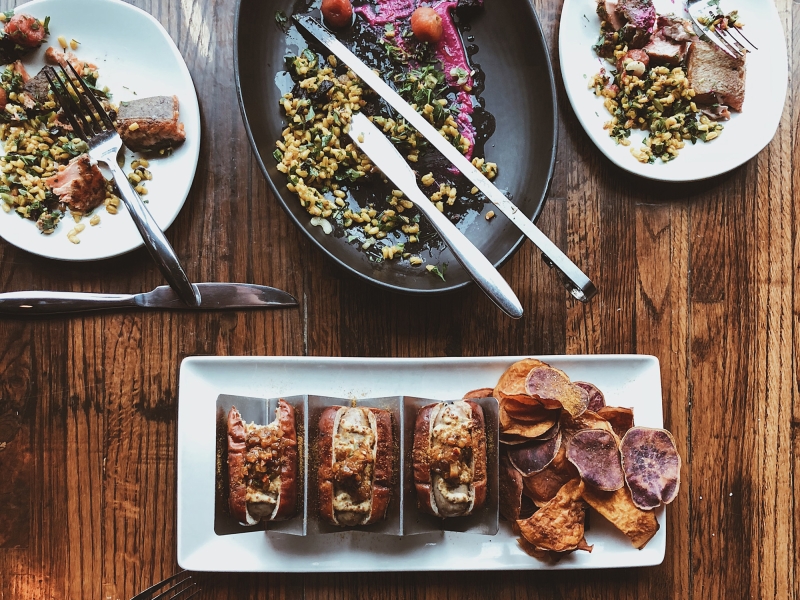 Feast on local food
Fuel up before a hike at one of the coffee shops like Moab Roasters, dig into BBQ and cuisine from around the world at the restaurants along Main Street, or try a local tipple from Moab Brewery to quench your thirst. Can't decide what to eat? Head to the Moab Food Truck Park to get a taste of local life and enjoy al fresco eats.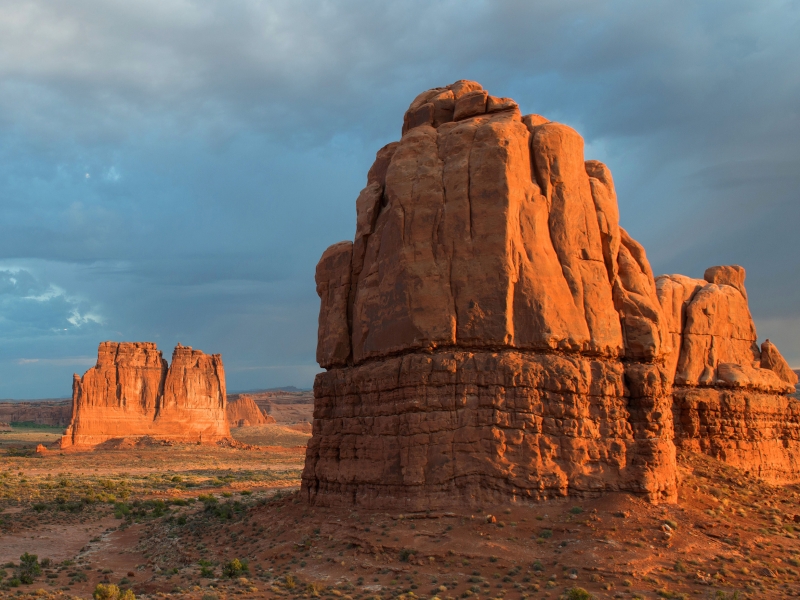 Hike and bike the sandstone scenery
When it comes to hiking Moab, the area is blessed with options for all abilities. Surrounded by a state park, two national parks, and public trails, there's a hike for everyone from a short stroll through sagebrush to a more epic trek to the famous Delicate Arch in Arches National Park. Be sure to take a trip to Arches National Park Visitors Center to find out more about hiking Delicate Arch. 
Moab is mountain biking heaven with a network of trails through the sandy canyons, including the popular Slickrock Loop next to the Sand Flats Recreation Area, which is only a 30-minute bike ride (or 10-minute drive) from Moab.
Enjoy Alpine adventures at La Sal Mountains, Utah's second highest range. Only 20 miles south of Moab, the mountains are home to forested hiking and biking trails that offer a contrast to the desertscape of surrounding areas.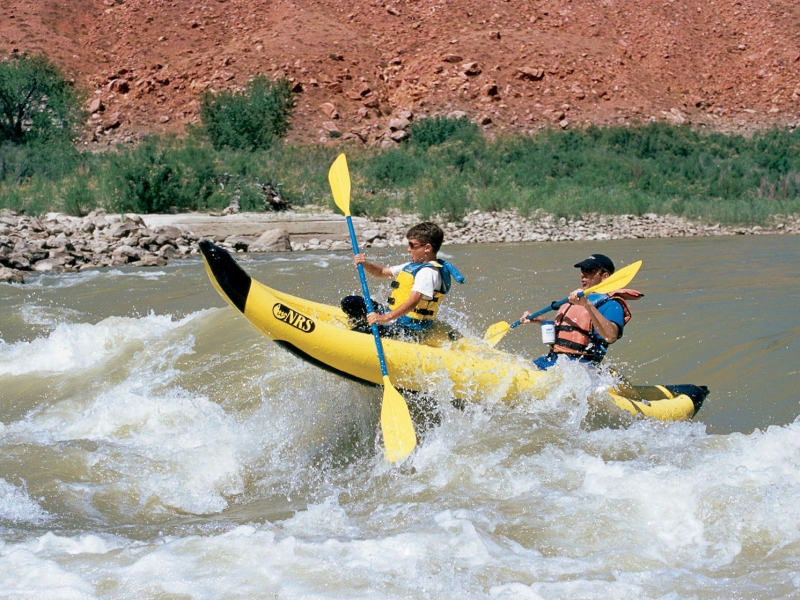 Raft the rapids
If you're staying in Moab, rafting is an adrenaline-pumping way to have an adventure on the famous stretch of the Colorado River, which can also be explored at a more relaxed pace on the Rocky Mountaineer Rockies to the Red Rocks route. 
River rafting in Moab is easily accessible and a trusted tour company can take you on a guided half day or day-long adventure along the river, riding rapids and enjoying lunch at a riverside ranch to soak up local flavour. Take a beginner friendly tour through class 1 or 2 rapids, or even paddleboard in calm stretches of river, or take a more advanced ride through the rushing rapids of the churning class 5 Cataract Canyon.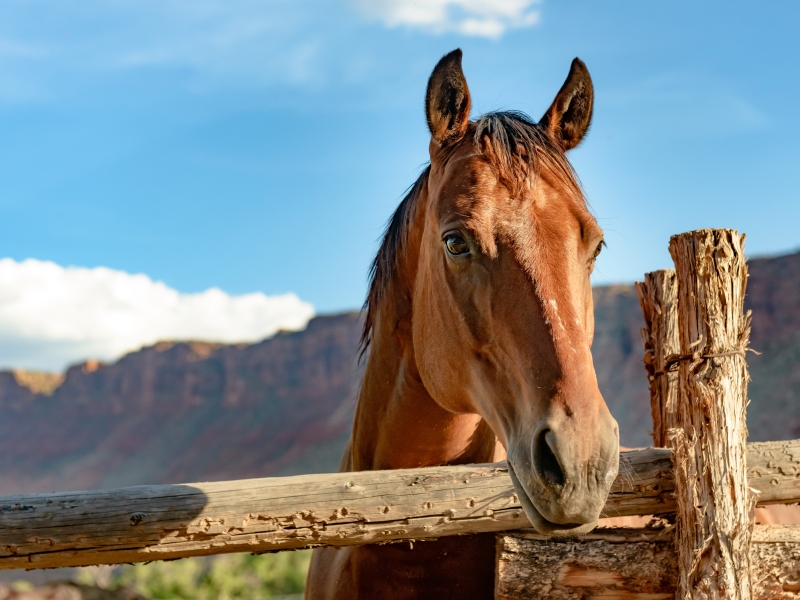 Hitch a ride on horseback or 4WD
Made famous by Western style movies, the landscape around Moab certainly looks like something you'd expect to see in a film. Ride along the Colorado River, trot along a desert loop, or encounter old movie sets on a horseback ride around Moab. Looking for something a little faster? Take a sunset four-wheel drive safari through the undulating sandstone canyons.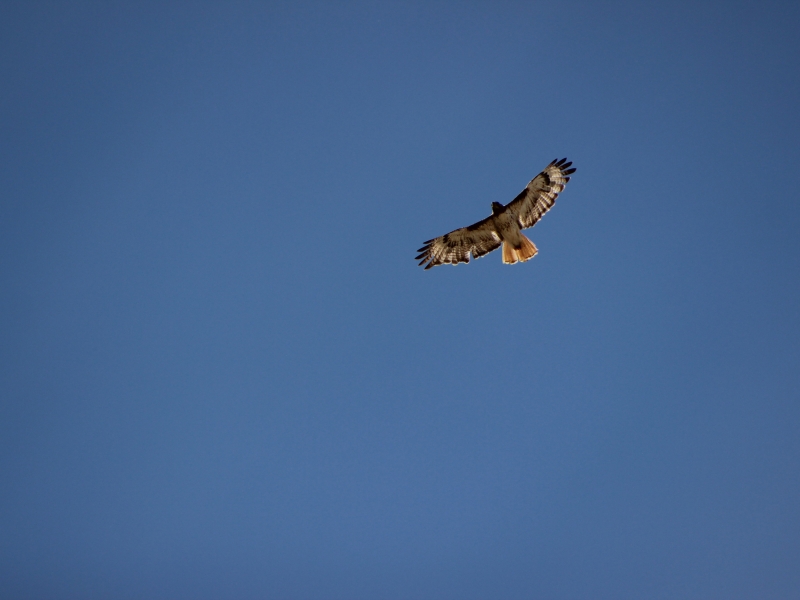 Go wild for local birds
Sweeping canyons provide high nesting areas for visiting birds, while the rivers and wetlands near Moab are home to hundreds of types of flying guests. Just outside Moab is the 875 acre Matheson Wetlands, which has recorded more than 225 species of birds - including some that are unique to the US Southwest.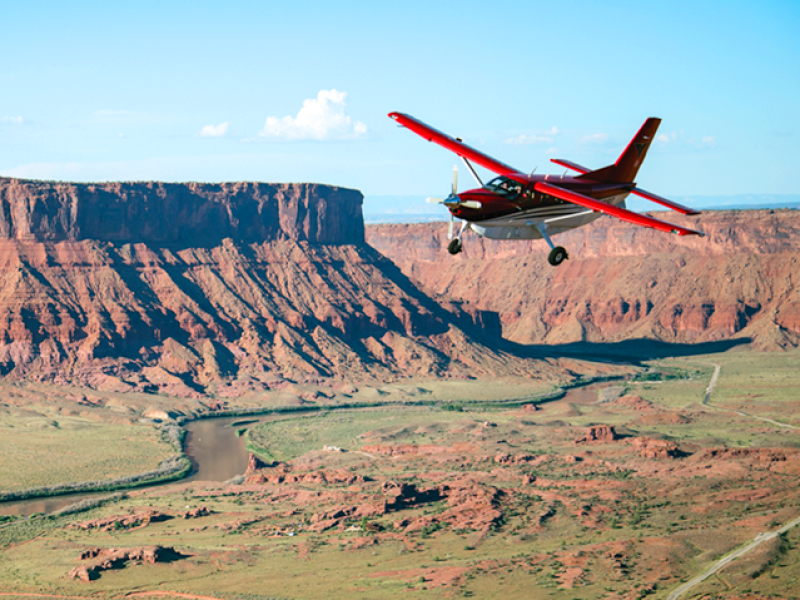 Don't forget to look up
Reach new heights with hot air balloon escapades in the desert that give you a whole new perspective on the colourful canyons and rushing river. Camp out under the stars and see constellations light up the night sky –  Arches National Park is a designated Dark Sky Reserve, but you don't have to go very far out of town to see the twinkling stars. See the Southwest from the sky with a flightseeing tour with Redtail Air and enjoy a scenic transfer to world-famous cities such as Las Vegas or Salt Lake City.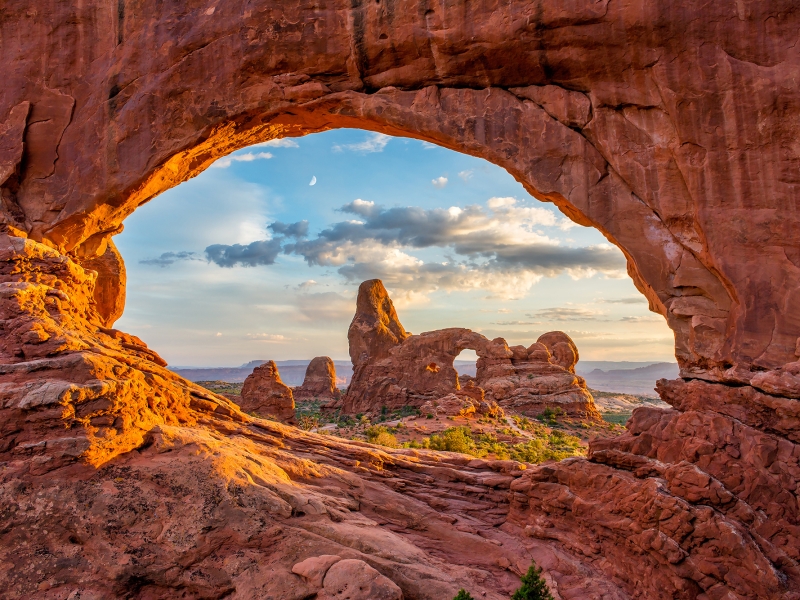 Meet

the

'Mighty 5' National Parks
Moab is the jumping off point for exploring the 'Mighty 5' National Parks, especially the nearby Arches National Parks and Canyonlands National Parks. The entrance to Arches is situated only five miles north of the town, making it the gateway to thousands of spectacular natural sandstone arches. Learn more about the 'Mighty 5' National Parks here. 
Book your canyon country adventures with our partner Moab Adventure Center– check out their website for more inspirational ideas for day trips in the region.  Need more time to experience all the exciting things to do in Moab? Extend your pre or post Rockies to the Red Rockies journey with a package that gives you time to soak up the sun and sandstone surroundings. Discover more here.
Final Call 2023 
Offer extended! Until June 30, save on select 2023 travel dates with our best offer of the season.