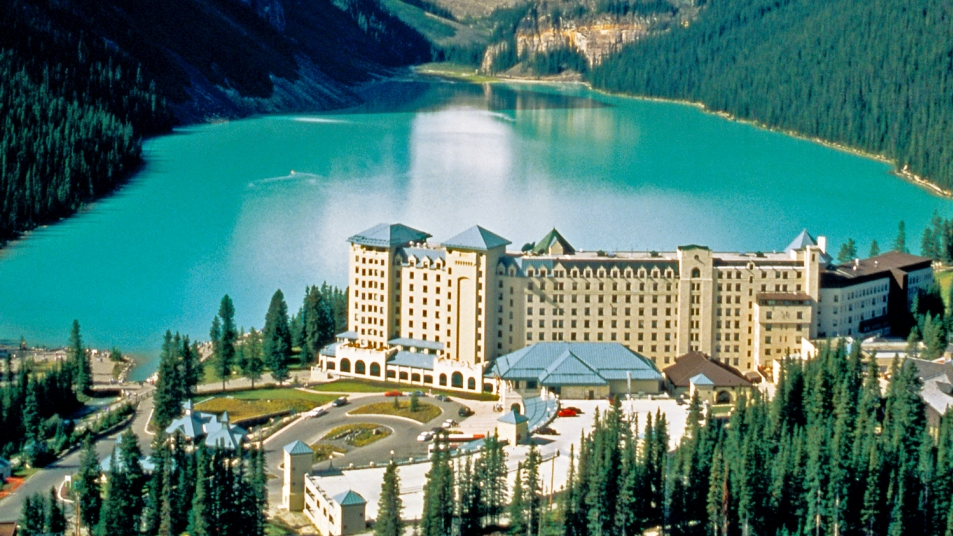 Canadian Icons
Lush alpine meadows. Centuries-old thermal springs. Otherworldly icefields that stretch as far as the eye can see. For a true taste of what makes Western Canada so special, nothing beats a journey through the Canadian Rocky Mountain Parks. This sprawling UNESCO World Heritage Site encompasses four national parks—Banff, Jasper, Kootenay and Yoho—as well as three provincial parks including Mount Robson. About 50 of the mountain peaks in this vast collection reach heights of over 3,350 m (11,000 ft) above sea level. Nothing beats seeing these natural wonders in person, especially when you're travelling with two of the country's most iconic luxury travel experts.
Fairmont properties have been welcoming visitors to this legendary landscape for more than a century. In 1885, the Canadian Pacific Railway Company's (CP) record-breaking new transcontinental railway made it possible for travellers to witness it all from the comfort of a passenger car. Shortly after it was completed, CP general manager Sir William Cornelius Van Horne commissioned the construction of accommodations along the way. Nestled among the mountains, these architectural landmarks have become as integral to the view as the emerald-hued glacial lakes. Learn more about Western Canada's grand railway hotels in our other blog post.
Rocky Mountaineer has been retracing CP's historic routes for more than 30 years. Our award-winning journeys traverse five national parks, and of the 10 locomotives in our fleet, nine are veterans that once served Canadian National Railway and Union Pacific Railway—rebuilt with luxury in mind. We share Fairmont's passion for top-tier service in untamed natural settings. After all, the trip of a lifetime deserves to be extraordinary.
Can't quite picture it? Let us take you there. Here are just a few of the memorable moments that await you on a Rocky Mountaineer and Fairmont vacation.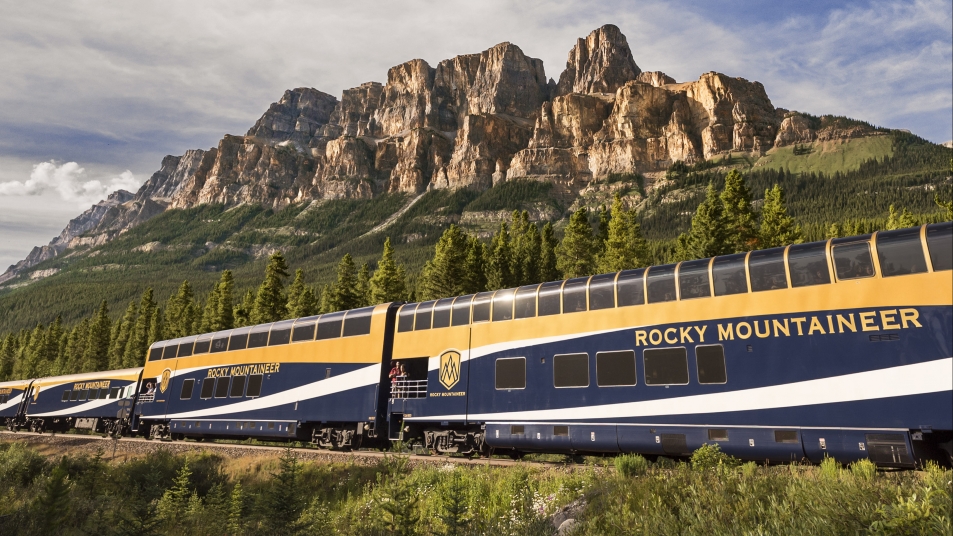 Front-Row Seats
As the train winds its way through forests and along cliffs, unparalleled scenes unfold just outside the windows. Waterfalls cascade into rushing rivers, while glacial lakes rich with rock flour form tranquil emerald and turquoise pools. Moose and black bears ramble past. Osprey swoop overhead.
For maximum awe, linger in one of our glass-domed coaches and watch as majestic Mount Robson—the highest peak in the Canadian Rockies, and the second-highest in British Columbia—towers over the surrounding mountains. Called Yuh-hai-has-kun ("The Mountain of the Spiral Road") by the Texqakalit Nation, this 3,954-m (12,972-ft) colossus features countless layers of horizontal rock and a steep, icy summit with its own personal weather system. Even on clear days, it sometimes sports a halo of clouds.
Let your imagination take over as Castle Mountain comes into view, its distinctive turrets and jagged cliffs giving it the commanding air of an impenetrable fortress. Its eastern tower is called Eisenhower Peak, a souvenir from the decades-long controversy sparked by Prime Minister Mackenzie King's spontaneous decision to rename this Alberta landmark in honour of US General Dwight D. Eisenhower's visit in 1946.  (He'd heard that Eisenhower had been gifted a castle in Scotland, and was determined not to be outdone.)
Sip a glass of wine as you travel through the very heart of two mountains in the Spiral Tunnels, built in 1909 to replace a dangerously steep stretch of tracks known as the "Big Hill." The two tunnels plunge through Cathedral Mountain and Mount Ogden in a 15-minute maze of twists and turns, crossing high above the rushing rapids of the Kicking Horse River twice and leading to the top of Kicking Horse Pass, a National Historic Site.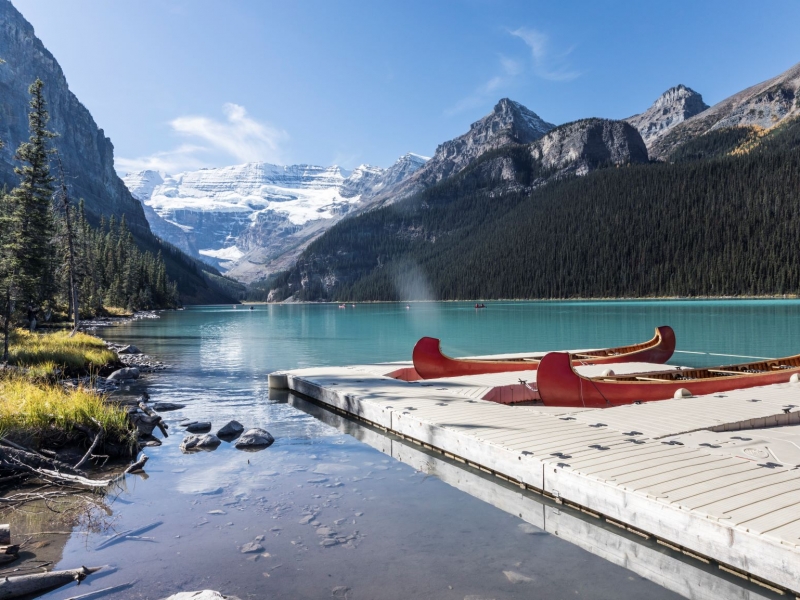 Feast your eyes on the shimmering turquoise waters of one of the world's most famous lakes with a visit to the Fairmont Chateau Lake Louise's stunning Lakeview Lounge patio. Out here at the water's edge, guests are treated to afternoon tea with a side of raw natural beauty—gaze across the lake at the snow-capped glacier of Mount Victoria, one of the most photographed mountains in North America. Keep one eye on the sky, because an eagle could soar overhead by at any moment. If alfresco dining isn't in the cards, cozy up with a cocktail at one of the Fairview Bar and Restaurant's enormous arched windows, which deliver the same spectacular views from a more sheltered vantage point.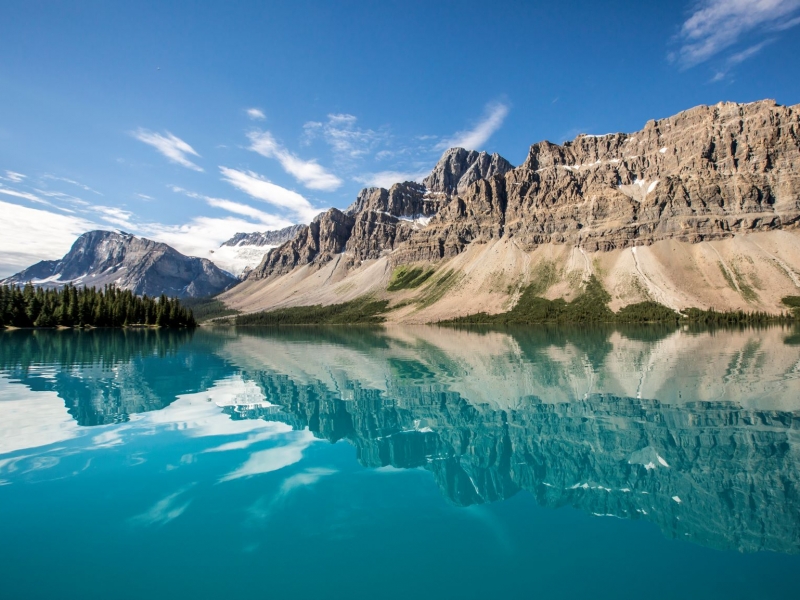 It's not every day that you have an opportunity to spend the night in a UNESCO World Heritage Site. Banff National Park—the first national park in Canada and the third in the world—encompasses a sprawling 6,641-km2 (2,564-sq mi) of forests, mountain peaks, lush valleys and more. Set deep in this renowned conservation area is the Fairmont Banff Springs (also known as the "Castle in the Rockies"), beloved for both its architecture and its proximity to the hot springs that were made famous by CP railway workers in 1883. Spot whitetail deer and other local creatures on a private guided tour of the wildlife corridor and refuel mid-tour with a charcuterie-board rest stop at the golf course clubhouse. Or take in the sights from the hotel's new 360 Dome, a clear-walled private dining venue with wraparound views.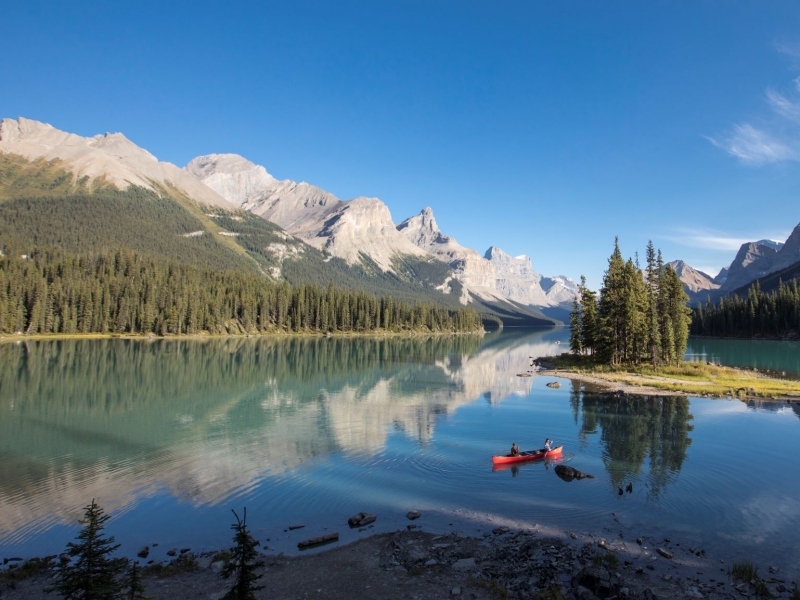 At Jasper National Park, a world of magic awaits those who stay up past bedtime. That's because the largest park in the Canadian Rocky Mountain Parks UNESCO World Heritage Site is also the second-largest Dark Sky Preserve on the planet. Star-seekers come from all over to marvel at the constellations, supermoons, eclipses and meteor showers that illuminate the sky over this 11,228-sq km (4,335-sq mi) national treasure. And the daytime holds special wonders of its own, too. At the Fairmont Jasper Park Lodge's spectacular golf course—rated one of the country's best for the past 20 years—it's not uncommon for players to encounter notable local residents such as deer, elk and even bears.
Plan Your Once-in-a-Lifetime Adventure
Alpine lakes, towering mountain peaks and iconic wildlife: when it comes to awe-inspiring natural beauty, Western Canada is the real deal. And nothing compares to seeing it all for yourself—up close, in comfort. Learn more about our rail routes and contact us to start planning your own unforgettable vacation in the Canadian Rockies.