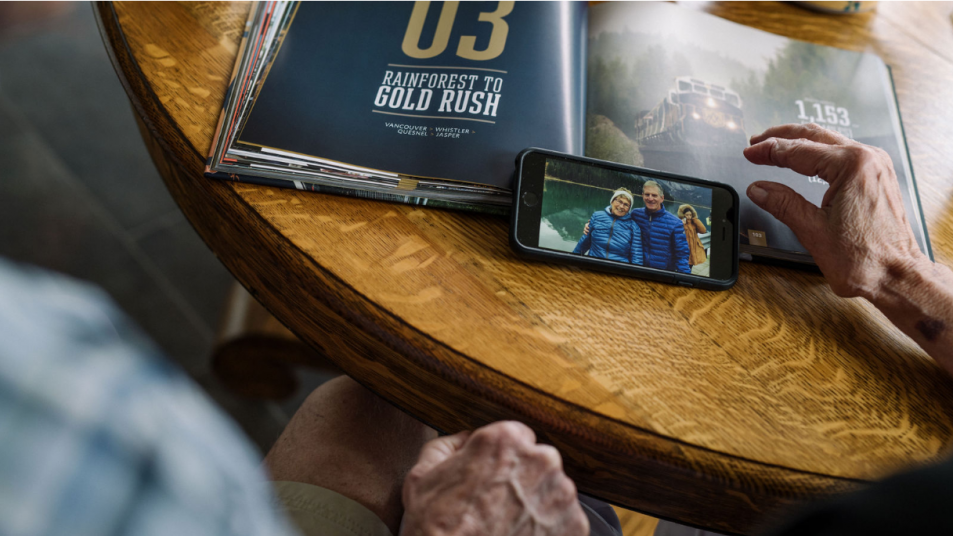 One of the best ways to celebrate a special occasion is to travel somewhere new with someone you love. Vacations have a unique way of bringing people closer through the shared experience of discovery. There's certainly no shortage of choices when it comes to ticking off the places on your must-do travel list, but if you want to stay within Canada, what's the best way to mark an important event in a remarkable way?
Again and again, couples told us that they decided to travel with us for their second honeymoon or anniversary celebration because of our reputation for top-notch, friendly service; delicious, expertly prepared meals; and our unique ability to showcase the very best of the Rockies. Many willingly shared their stories online and we reached out to some of them to learn more.
Linda
For many years, we thought we'd like to go west and travel to the Rocky Mountains. My mom used to travel there for work and would tell me how beautiful it was. Now with our 50th anniversary coming up, we asked ourselves, 'What are we waiting for?' We went ahead and booked our journey with Rocky Mountaineer in GoldLeaf Service, along with a four-day stay in Victoria and three days in Vancouver.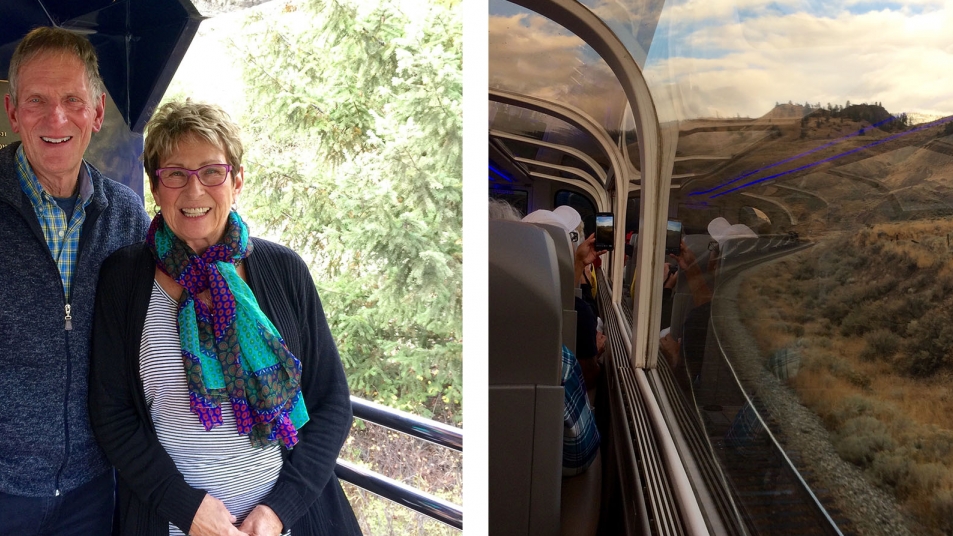 Onboard the train, we will never forget our first glimpse of the Rockies from a distance while we were having dinner. They took my breath away. They were truly mesmerizing. Jasper was covered in a blanket of early fall snow. It's something I'll never forget.
We spent our anniversary – October 7 – on the train. Our Hosts made us feel special by presenting us with a small cake with a candle on top. They also gave us a beautiful hardcover book with gorgeous images of the scenery along the route. Then at every stop, the hotels pulled out all the stops too, with room upgrades, champagne and treats.
Some of our best experiences included interacting with the Hosts who were ever-smiling and quick with both facts and humorous stories. They took such pride in their jobs. We also met fellow guests visiting Canada from all over the world. At mealtimes, we'd sit with new people and learn about their impressions of Canada while we enjoyed delicious cuisine made with local ingredients, like salmon. (I loved that dish so much I later found the recipe online so I could recreate it at home.) By the end of our journey, we had made new friends we'll have for life.
They were many scenic highlights. I can vividly remember them all. I remember the cascading waterfalls in Yoho National Park that had worn away the rocks over time and plunged into water with hues of green and blue. The engineering of the [Spiral] Tunnels was impressive. We saw them on a stop during a motor coach excursion, then later we actually went through them on the train.
I was so thankful to be with my husband for this trip. I was happy to create new memories special to us. We still chat often about our trip with Rocky Mountaineer. It always sparks so many fond recollections.
Guests: Nancy Christine Schmautz and her husband, Randy, of Cochrane, Alberta
Travel Date: June 2017
Destinations: Jasper, Banff, and Vancouver
Nancy
We were going to be celebrating our 35th anniversary on June 4 and we wanted to do something special. For ages, our friends were telling us how much they loved Rocky Mountaineer. We looked into it and liked what we learned. Its Instagram account really clinched the deal. It was filled with gorgeous photos of the scenery along the way. Canada was so stunning and beautiful, and we really wanted to explore more of our own country. We've done plenty of road trips over the years, but travelling by train would give us completely different views.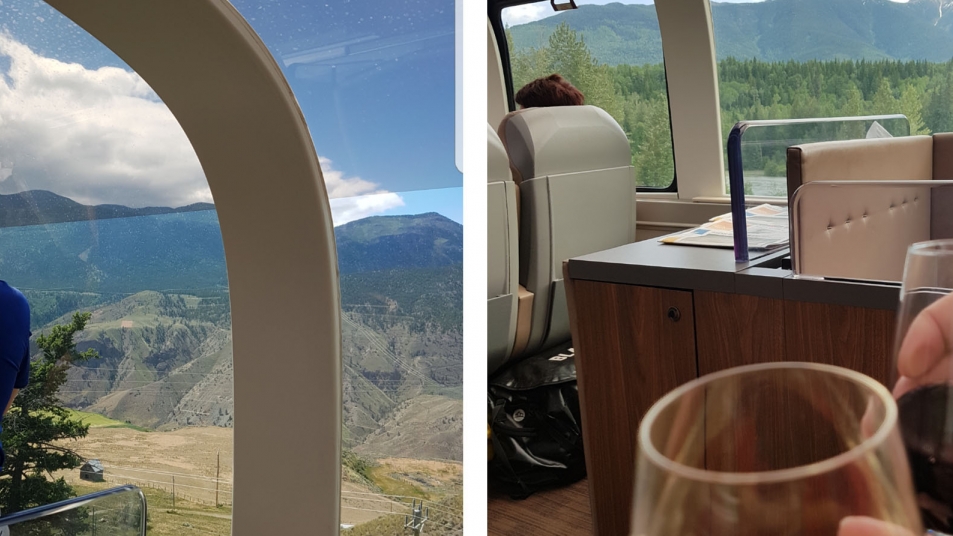 The first thing we noticed onboard was the incredible service. It's non-stop pampering with all the things we expected from GoldLeaf Service, like the heated white towel service before each meal. The leisurely pace of the trip, along with the super-comfortable, reclining seats let us completely unwind.
The Hosts had a lot of interesting information to share about the towns and scenic highlights along the way. Some fellow passengers from other countries thought it was funny that two locals were on the train. For us, the experience was about deepening our appreciation of Canada. We learned a lot of history that we didn't know before.
There are so many moments that made our journey so special. We loved the meals, especially the beautifully prepared baked salmon. We looked at Hell's Gate with wonder as powerful torrents of water squeezed through a narrow opening in the canyon. And my husband and I will also always remember the special ways our anniversary was recognized throughout our trip – everything from artisan chocolates, sparkling wine and a lovely card from Fairmont Jasper Park Lodge to a gorgeous chocolate cake from the Fairmont Hotel Vancouver. I can't think of a better way to have celebrated our 35th. It was romantic just spending time together and sharing this incredible experience. I still re-read my travel journal to relive every detail of our vacation.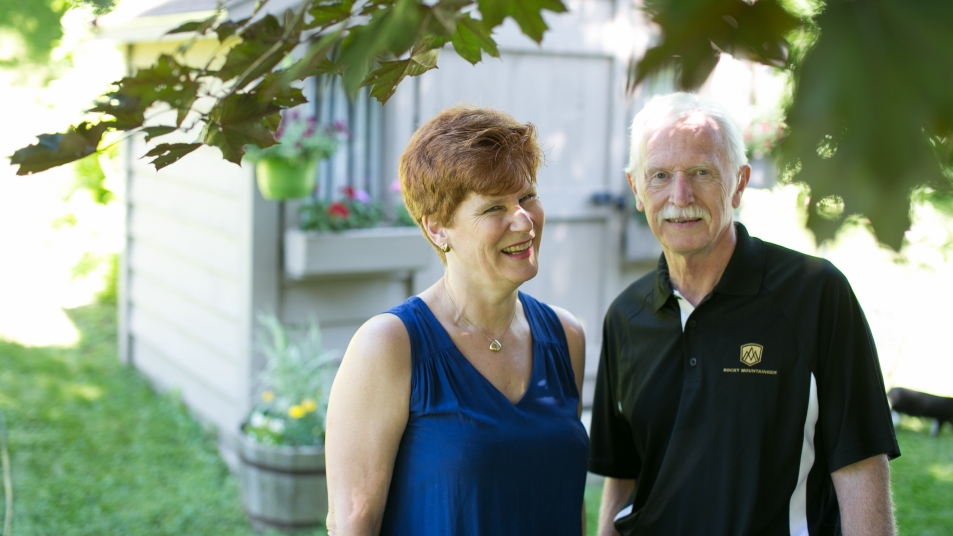 Guests: Kathleen Randle and her husband, Barry, of Ancaster, Ontario
Travel Date: August 2017
Destinations: Calgary, Banff, Lake Louise, and Vancouver
Kathleen
My husband and I met on a train more than four decades ago, so it seemed fitting that we mark our 40th anniversary on one, too. I have always loved trains. I like hearing the sound of the train whistle off in the distance. We had never been west of Windsor during all the years we travelled together so we felt this was a perfect time to see the Rockies and to discover more of Canada after its 150th [birthday] last year.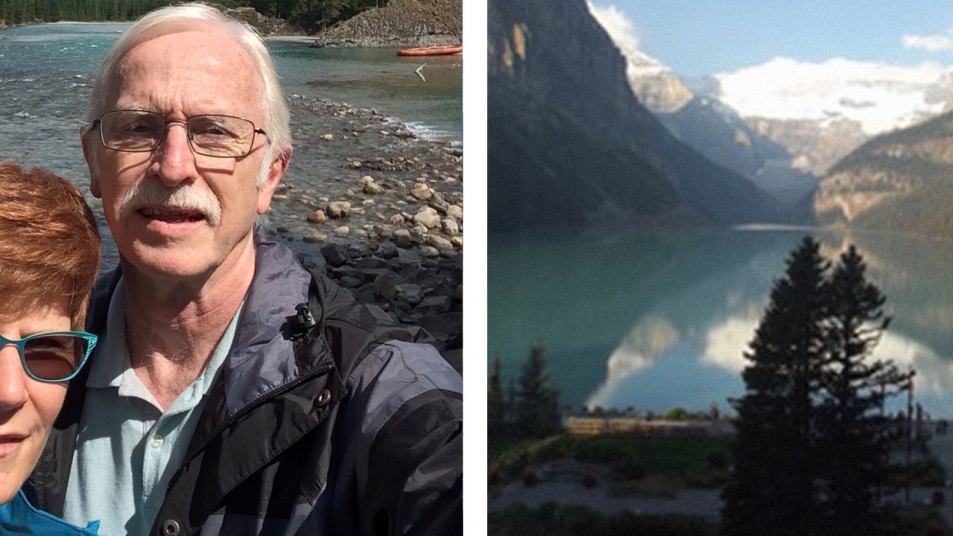 We started our trip by spending some time in the Calgary area. We discovered some terrific pubs in the city before heading to Banff, where we went up the gondola and took a helicopter tour of the Rockies, despite my husband's fear of heights. We also spent a night at the Fairmont Chateau Lake Louise in a room with a spectacular view. The sight of the lake in the morning light is one I won't soon forget.
Very shortly after we embarked in Lake Louise, we knew we had made the right choice. Any experience that starts with a mimosa for breakfast is ideal! As we continued our trip to Vancouver, we had a chance to reconnect and chat about the beautiful scenery we were seeing together. Our jaws literally dropped at points along the way. As a history major in university, I loved hearing so much about iconic events like The Last Spike and hearing trivia about how Kicking Horse Pass got its name. And who knew that Canada had a desert? We learned so much about our country. It made us proud to be Canadian.
We honestly loved every minute! Once we got home, I felt well-rested for the first time ever after a vacation. We recommend it to everyone. And the trip confirmed that the reason my husband and I are together is that we travel so well with one another. Our time on Rocky Mountaineer was a memorable adventure we could share.
Ready to book your own romantic getaway?
If taking a relaxing trip through the wilds of British Columbia to iconic destinations in the Canadian Rockies—such as Banff, Lake Louise, and Jasper, Alberta—sounds appealing to you, learn more about the types of packages we offer.