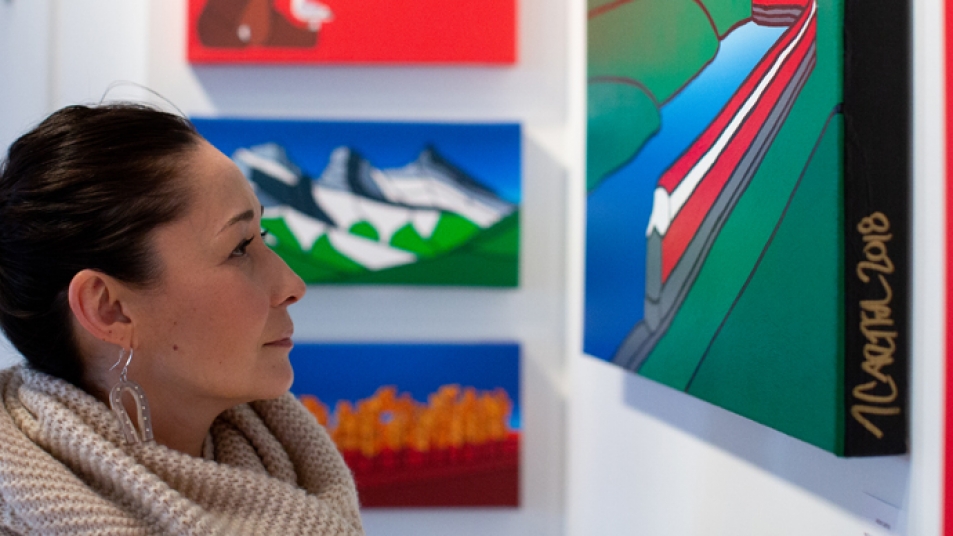 Known as a sacred place among the Indigenous Peoples of Western Canada, Banff's powerful magic serves as a catalyst for creative expression. Located in the lush forest of Banff National Park in the Canadian Rockies, the town's skyline is dominated by the peaks of Mt. Rundle and Cascade Mountain. The forest climbs up the limestone mountain-faces before transitioning into ice caps that touch the clouds.
About 90 minutes from Calgary, Alberta, Banff offers an array of scenic outdoor pursuits: visitors can enjoy hot springs, ski and snowshoe in winter, and in the warmer months, hike and bike throughout the region.
Although outdoor activities are driven by the seasons, Banff's arts scene can be experienced year-round. As one of Canada's top travel destinations, the town showcases the rich culture of the West through its multidisciplinary arts community. For Reneltta Arluk, Director of Indigenous Arts at the Banff Centre for Arts and Creativity, Banff serves as both a home for her family and the cradle in which a multitude of creative projects are born.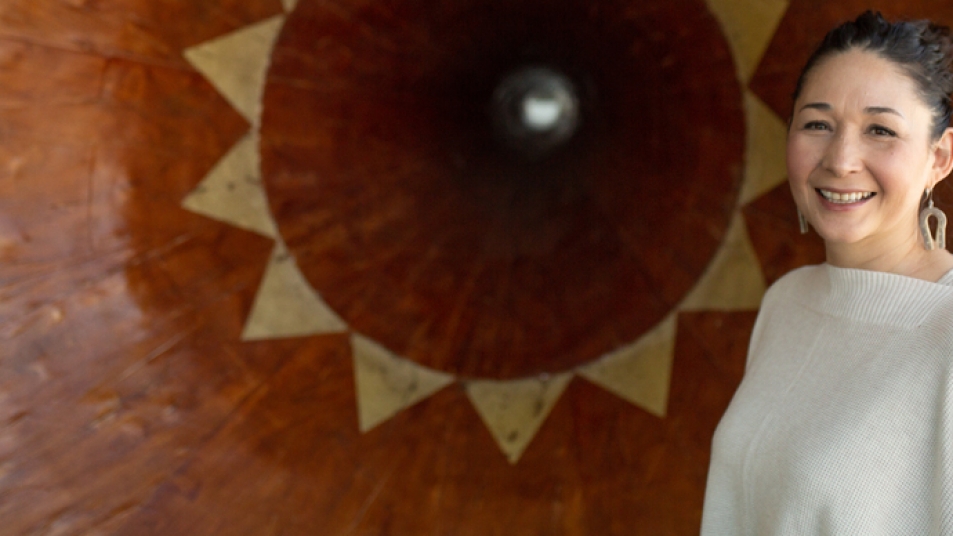 Arluk grew up in the Northwest Territories, and was immersed in her Inuvialuit, Cree, and Dene heritage from an early age. Raised nomadically by her grandparents, she grew up on the trapline until she was old enough to go to school, later moving to Yellowknife. It was her own personal pursuit of storytelling that led her to the Centre for Indigenous Theatre in Toronto when she was 19 years old. "I drove from Yellowknife all the way to Toronto. That's pre-Google, pre-cell phones, literally just directions on a map and hoping for the best," says Arluk. While deeply immersed in her heritage, she grew up without exposure to the arts, something she explains isn't uncommon in the north. But in 2005, Arluk became the first female Indigenous graduate of the Bachelor of Fine Arts acting program at the University of Alberta.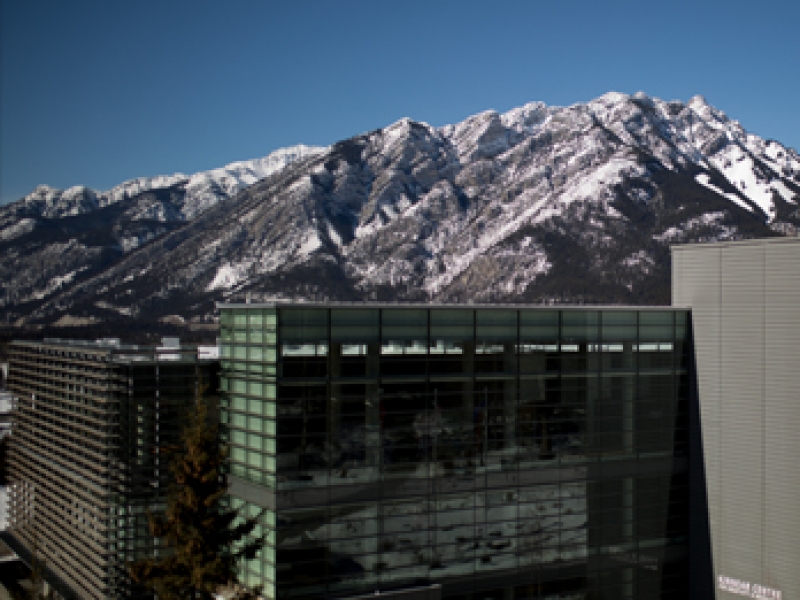 Arluk creates as "an act of cultural resurgence," telling Indigenous stories from an Indigenous perspective through her role as an actor, playwright and director. She's been doing so as a multidisciplinary artist for over a decade. "Indigenous Peoples are not discipline-strict," says Arluk, who believes that the Indigenous culture's adaptability accounts for the large number of multidisciplinary creatives within the Indigenous arts community. "We have always been a multi-disciplined people. We are very adaptive, very creative. […] We do what I call functional art: we wear our art in our practice and on our backs," Arluk continues. "It's always been a part of who we are because we've been nomadic [...] I think you can feel that [art that takes on a larger meaning than its own] in the pieces. That's what I love about our art, is that it always comes from a place, a place of knowing. And that knowing is subconscious to be felt."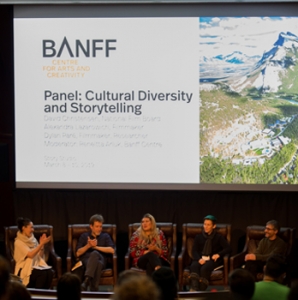 Two important developments in her life moved Arluk from her role as an artist towards taking on a leadership position in the Indigenous arts community: an invitation to join the National Arts Centre's Indigenous Advisory Committee; and the birth of her son, Carver. After these events, she began to think more deeply about both her own legacy and that of the collective community, and began investigating how she could connect her pursuit of Indigenous cultural resurgence to an artistic leadership role. "You start thinking about what your trajectory is and what do you really want to do with your life," she says.
Arluk continues this thoughtful legacy in her role as Director of Indigenous Arts at the Banff Centre for Arts and Creativity, a five-minute drive from the town's center along picturesque Tunnel Mountain Drive. The Centre is a haven for creatives to both collectively and individually produce meaningful works with the aid of resources, education, curation, and program facilitation provided by the staff. While the town offers a range of arts and culture experiences, Arluk believes the Centre is the best place to experience a fully immersive artistic experience informed by First Nations culture. "I think Banff Centre is the best-kept secret of Banff" Arluk says. She also suggests visiting the Whyte Museum of the Canadian Rockies and the Carter-Ryan Gallery for a more traditional gallery experience while visiting the town.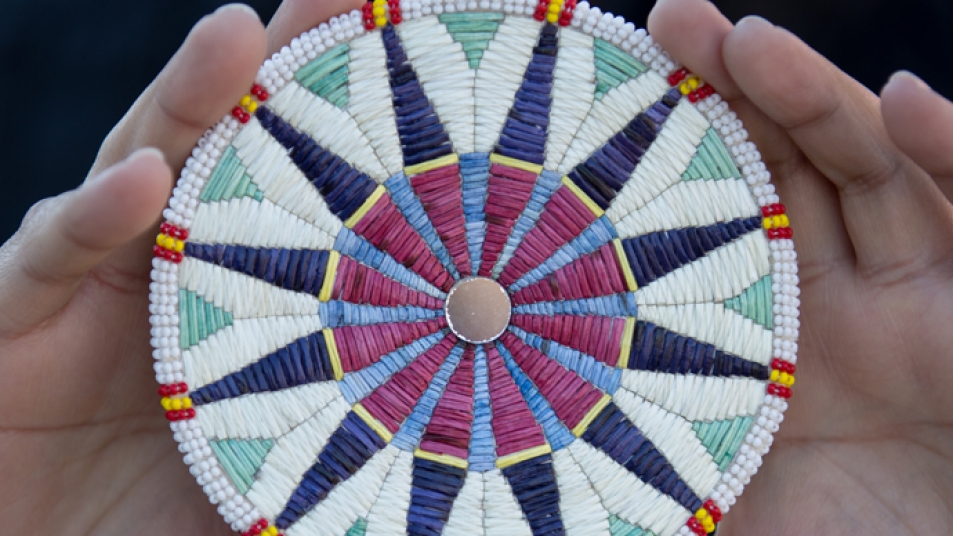 Banff Centre offers a variety of programming in dance, theatre, visual arts, and music, as well as an interdisciplinary artist-in-residency program—something Arluk participated in early in her career. Visitors can see the production of creative works-in-progress through open studio showcases presented by artists-in-residence. "You get to see things in process, which I think is a bit more dynamic," says Arluk. "I'm a bit more interested in the process than the finished product and I think that is also, to me, a best-kept secret." The Centre holds numerous events, performances, films, and talks that are open to the public and presents outdoor concerts in the warmer months, offering guests the opportunity to immerse themselves in live performances while surrounded by the natural splendor of Banff.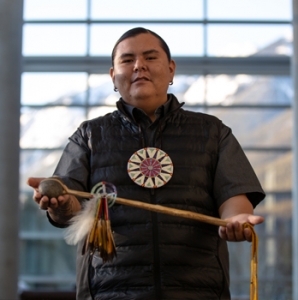 Arluk's assertion is shared by her colleague Daryl Kootenay, a faculty member at the Banff Centre and a traditional First Nations artist, speaker, and youth leader. Kootenay's mother is of the Stoney Nakoda Nation of Treaty 7, a First Nations band based about 45 minutes from Banff. "They call us the original keepers and protectors of the mountains," explains Kootenay. His artistic practice includes traditional Northern Men's Indigenous dance, bead work, porcupine-quillwork and drum-making. Like Arluk, Kootenay's creative works, expression, and leadership is founded on the resurgence and celebration of Indigenous arts, and he believes programming like that at the Banff Centre is crucial to the development of the community.
Through Arluk's personal works and her curatorial and program development at Banff Centre, she hopes to preserve tradition while creating new culture within her community. "I felt like if we are creating this voice, we should all create this voice together," she said. "And we should all do it with the mind that we want to grow our community, creating space for Indigenous voices in these major places—and exquisitely!"