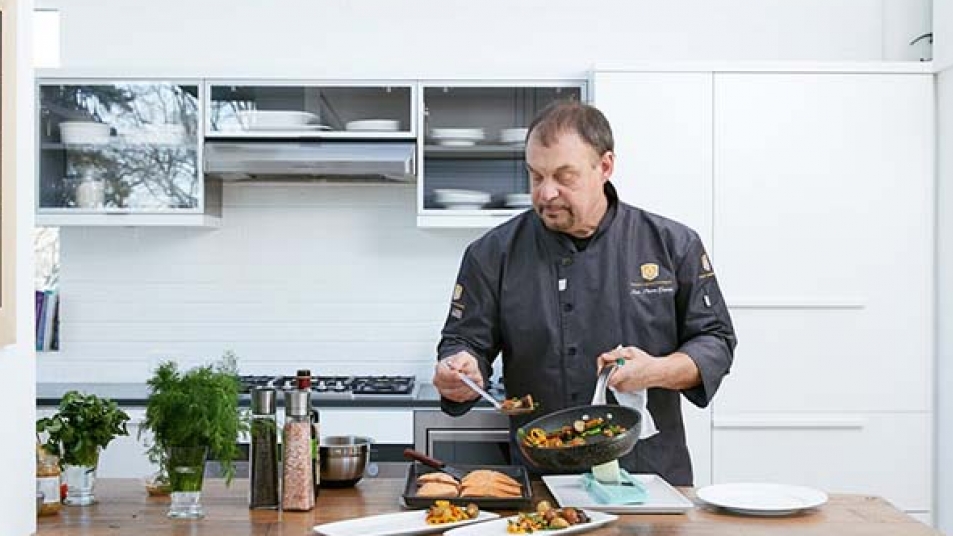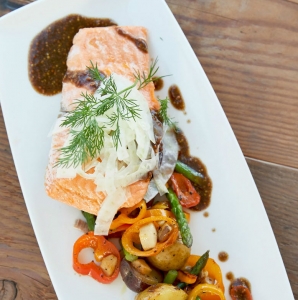 Experiencing a destination's cuisine is one of the singular pleasures of traveling—tasting the unique dishes and fresh ingredients that give a place its own flavor. For Jean Pierre Guerin, the executive chef responsible for the food served onboard our iconic luxury passenger train, taking our guests on a culinary journey that's of the same caliber as Western Canada and the Pacific Northwest's most jaw-dropping scenery, is all in a day's work.
Guerin is based in Vancouver, British Columbia, Canada. It's the city from where you either depart or arrive on our Canadian Rockies train trips, which travel to iconic Rockies towns like Banff, Lake Louise or Jasper.
Since the trains run between April and October, Guerin uses the coldest winter months to recharge his creative batteries, consider new dishes for our lunch and breakfast menus, and connect with both old and new suppliers as he hunts for the most flavorful local ingredients to delight onboard guests.
"We're serving food you'd be accustomed to finding in a high-end restaurant in a major city," said Guerin, adding that guests are often surprised by the top-notch level of cuisine that is prepared onboard by his expert culinary team. "We create dishes exactly the same way, except we do it on a moving train."
Making culinary magic on a moving platform
On the train, you're working in such close proximity to your guests. They are literally within five feet of you, so you know right away if you've done a good job. They'll let you know. — Chef Jean Pierre Guerin
Prior to joining Rocky Mountaineer 11 years ago, Guerin travelled the world, working in hotel kitchens and designing meals for discriminating first-class airline passengers. Being constantly on the go for the previous 35 years prepared him for the unique position of creating meals on a moving train.
On our routes—Rainforest to Gold Rush, Journey through the Clouds and First Passage to the West—a culinary team of approximately 125 people are responsible for creating flawless dishes in train kitchens that are approximately six feet wide by 18 feet long. "We serve up to 1 million plates to 120,000 guests every year, so we have to be organized," he added.
Guerin loves the immediate feedback he receives from delighted guests who are often pairing their meals with seeing the sights outside their window—like majestic mountains, glacier-fed lakes, forests and canyons—that they've dreamed of experiencing for years.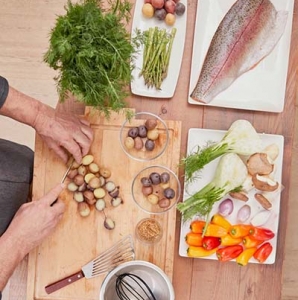 High-end menu offerings infused with local flavor
Every dish served on the train—either in the spacious seats in the SilverLeaf Service coaches or in the dining room located on the lower-level of the bi-level GoldLeaf Service coaches—is designed to give travelers a sense of the places they're visiting.
"We are mindful of buying as many Canadian ingredients as possible," Guerin explains. "Salmon is a big attraction and our beef is from Alberta, since Western Canada is known to have some of the best beef in the world."
Guerin's menus also feature fresh albacore tuna from British Columbia, local prawns and pork, as well as locally grown vegetables and fruit. Even the short ribs are braised with a merlot from Canada's Okanagan Valley.
The best flavors of the region are on the table
Two dishes served onboard our train that constantly garner rave reviews is a light seafood dish featuring salmon and a heartier meat entrée starring Alberta AAA striploin beef.
He prepares the oven-baked salmon with house-smoked sea salt, served with Yukon Gold potatoes, shaved fennel slaw and an old-fashioned mustard vinaigrette.
Creating this dish involves a delicate balance of flavor, texture and a hint of the unexpected. "Salmon is a big attraction—we wanted something fresh and crispy, with a cold dressing instead of a hot sauce," Guerin explained. "Then we've taken the concept of potato salad and added delicious vegetables tossed in oil and vinegar."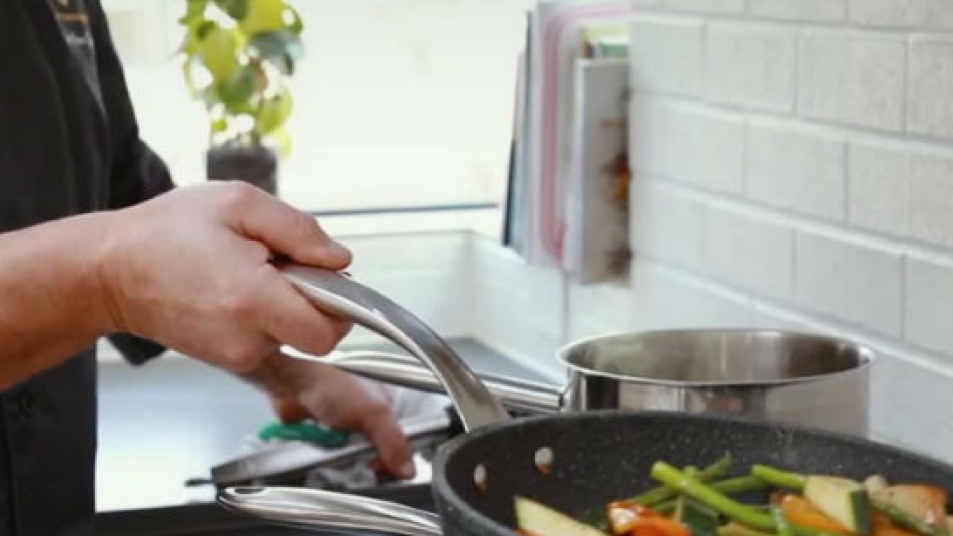 He serves the AAA striploin steak sourced from Alberta with a rich peppercorn sauce, horseradish mashed potatoes and fresh market vegetables.
"We're well known in Western Canada for having some of the best meat in the world, no offense to anywhere else," Guerin said. "Our beef is mostly grass-fed—it's high quality."
The contrasting dishes showcase the diversity of Guerin's menu, ensuring that there's something to interest all palate preferences. The train's culinary staff is also adept at catering to the needs of passengers who have dietary restrictions.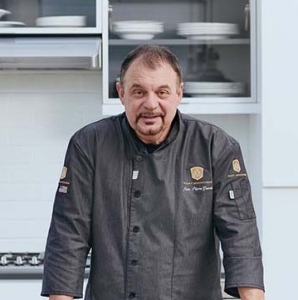 Pairing sips with scenery
Access to stunning scenery paired with commentary from onboard hosts who share insight into the areas the train passes through make our Canadian train trips unlike any other. A bonus? Along the way, you'll sip wine from British Columbia's Okanagan Valley.
"There are only a few places in Canada where you can grow wine [grapes], and the Okanagan is one of those. We travel the outskirts of the valley by train, and we felt it was a unique way to showcase their wine," Guerin said of the dynamic growing region, which is home to more than 180 wineries growing more than 70 grape varieties including merlot, cabernet franc, riesling and chardonnay. Guests often ask for recommendations on where to pick up their new favorites to enjoy at home.
At home with Chef JP
When he's not working on new dishes in our test kitchen, meeting with suppliers or overseeing day-to-day operations on the trains, you'll find Guerin on his ranch in the Cariboo, a plateau high in British Columbia's interior. There, he loves cooking for friends and family, perhaps most notably his (lucky) brown lab Simba. This combination of both loving his work and loving the part of the world he helps guests discover keeps him inspired.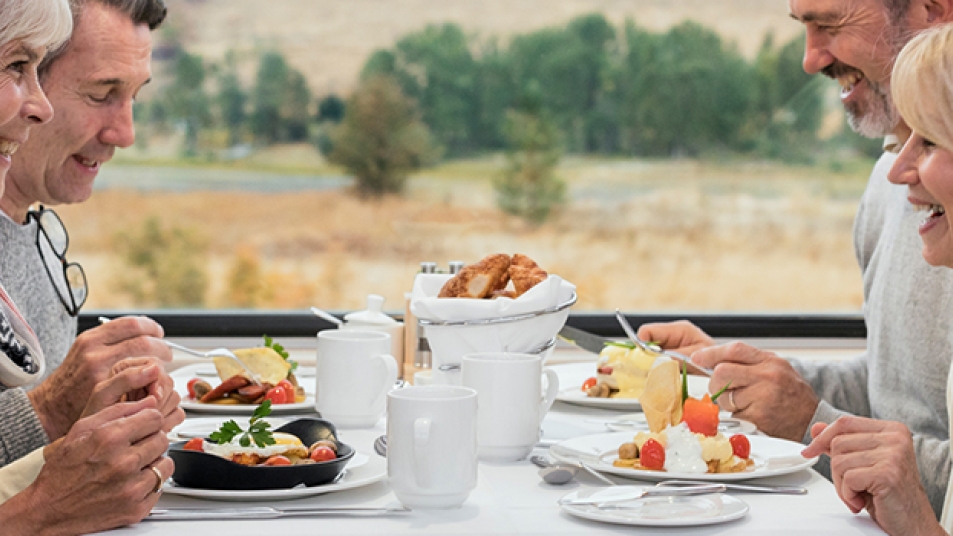 Savour it for yourself
There are other ways to explore Canada and the Pacific Northwest, but none are more enjoyable—and delicious—than taking a journey on Canada's iconic Rocky Mountaineer. The luxurious passenger train features knowledgeable onboard hosts, premium wine and spirits, plus breakfast, lunch and freshly made snacks, which are served in the GoldLeaf Service dining room or at your seats in SilverLeaf Service.
Explore the most remarkable landscapes of British Columbia and Alberta and take in once-in-a-lifetime views of this spectacular region through glass-domed or oversized windows as you relax in spacious, comfortable seats. Instead of traveling for food, why not enjoy a delicious experience along the way?
Ready to explore the Canadian Rockies by rail? View our packages and find the train journey that's right for you.