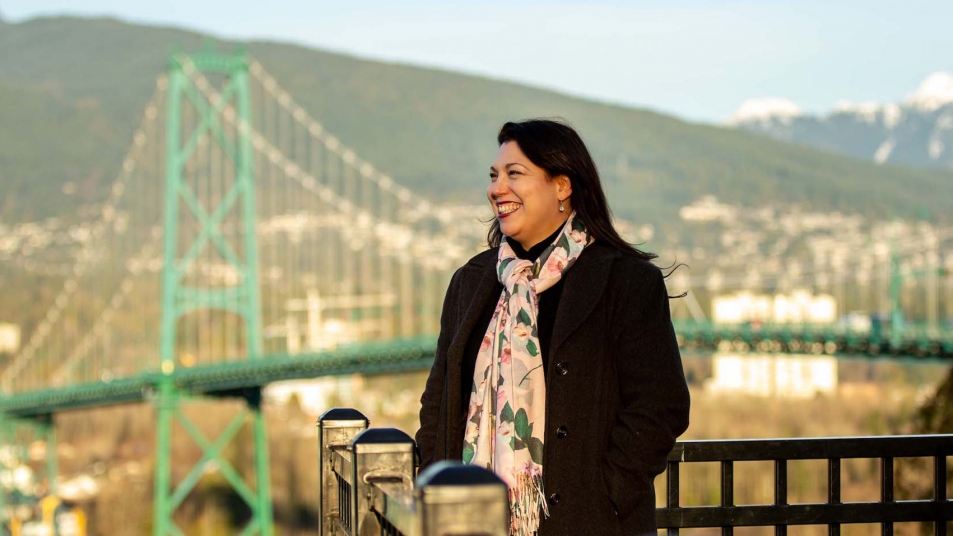 Giant mountains that touch the clouds and coastlines that voyage westward into the vast Pacific Ocean. This is the landscape that Janice Bondi enjoys while at home.
Bondi lives in Vancouver, British Columbia with her daughter Valentyna, where she spends time taking in the salty air at the Stanley Park Seawall or enjoying a vast array of culinary indulgences. Her home, the place where the edge of Western Canada kisses the water, just happens to be the first (or final) stop of our remarkable passenger train Rocky Mountaineer.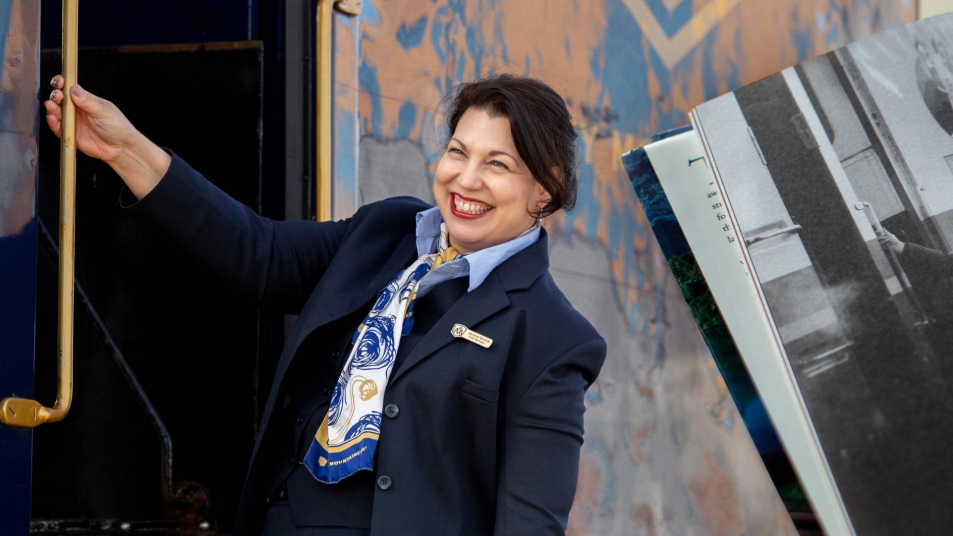 For 25 years, Bondi has worked and traveled onboard our luxury train, journeying from the glass metropolis that is Vancouver into the rugged wilderness, turquoise waters and welcoming towns of the Rocky Mountains – her home away from home.
Those who live in Vancouver can't miss the sight of the Coast Mountains that surround the city. But the sheer enormity and majesty of the Canadian Rockies located in the province next door is humbling, even to people who live around mountains full time. The landscape around the iconic resort towns of Banff, Lake Louise and Jasper in Alberta is truly captivating, and Bondi has travelled to them too many times to count throughout the span of her career.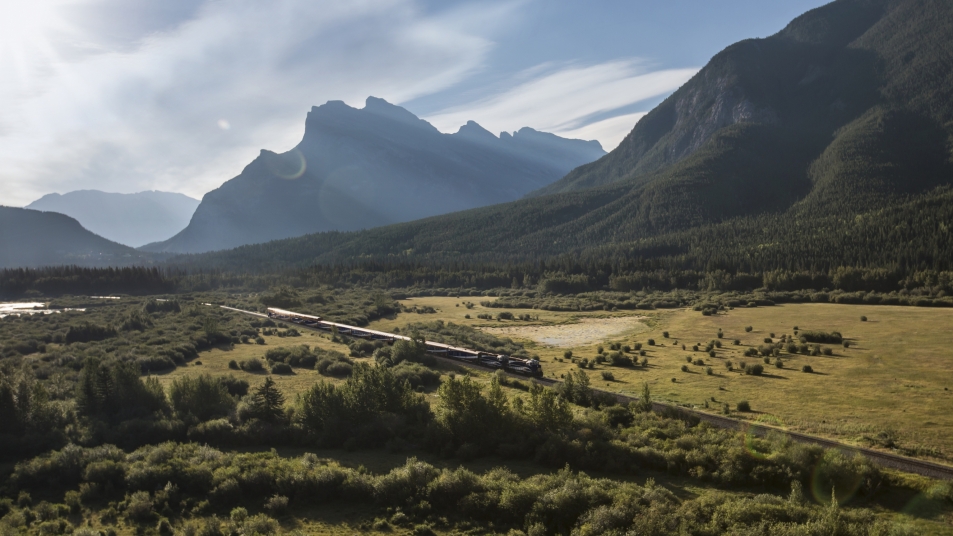 During the train's season, which runs between April and October, Bondi's average day moves far beyond the glass high-rises and bustling sidewalks of Vancouver, expanding to the ever-shifting visions of desert-like hills, picturesque canyons, trestle bridges, rushing waterfalls, vast mountainsides, and glacial lakes. The craving for a revolving landscape is unsurprising, and Bondi explains that guests are often quite moved as they pass through such beautiful territory.
"It's one thing to see a photo, but another to be placed so close. I have seen so many guests be brought to tears by the beauty of the landscape and monuments that are really a part of Canadian history," says Bondi.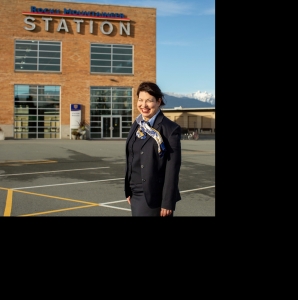 Bondi has found great joy in being a part of the family-owned luxury tourist train company and watching it grow, while she, herself, has grown with it. "In the beginning, when I was a Host, things were quite different," she says. "I was responsible for a certain number of guest services: everything from greeting them, to serving them food and helping them with their luggage."
Twenty-five years later, the now-Train Manager can be found acting as an orchestrator of sorts, working her magic so that the inner-workings of the train run smoothly. It's her job to ensure that everyone is comfortable and content, from passengers to the entire crew, just as if they were her family. "It's like a family reunion, but it's stress-free, really. When you think about a reunion, someone has got to plan for it and someone has to do all of the work. In this case, everything is taken care of," she explains. That's because Bondi and the team have taken care of it. She watches guests unwind and relax while they take in the stunning views as they travel between British Columbia and the Canadian Rocky Mountains, over the Continental Divide and into Alberta.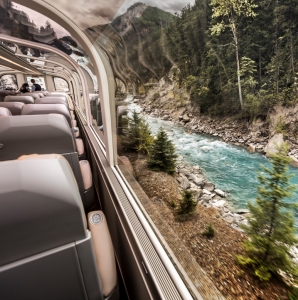 There are countless highlights to be viewed from the train, like travelling along the northern or southern arms of the mighty Fraser River, or through the sun-kissed, mineral-tinted hills west of Kamloops along the Thompson River. Towards Jasper, Alberta, there's Pyramid Falls and the Rockies' tallest peak, Mount Robson, and Kicking Horse River and the carved horizon of Castle Mountain en route to Banff. "I still find myself getting lost in the scenery, after all of these years," she says about the meditative quality of the train.
Many of the emotional connections forged between guests and the areas the train passes through come because of the its leisurely 50-km/30-mph travel speed, something Bondi believes helps create a magical experience onboard. "Because the train moves at a slower pace, it really allows you to take in the scenery," she says. "A lot of people expect something similar to what you would see in Europe, [where trains move quite fast], but we are really about giving guests the chance to take it all in." Her eyes widen and a smile crosses her face. "Last year we saw a mother bear with three cubs...it doesn't happen very often, but they were right beside us. The cubs were so tiny! They were really, really young and that was quite a surprise and really quite shocking," Bondi recalls fondly.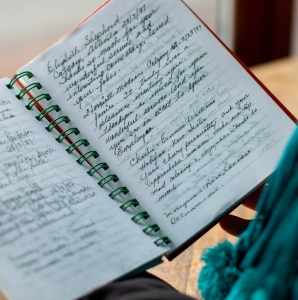 The unhurried speed of the train makes every moment an opportunity to soak in the rich surroundings of the Rockies, especially since the train's GoldLeaf Service boasts full, glass-dome windows and its SilverLeaf Service has wide, panoramic ones. Guests feel as if they're floating through it all – at one with the forests – an experience that Bondi says is the catalyst for connection. These remarkable sights, such as rivers turning red during the salmon spawning season, have even inspired poetry, songs and recitations. "It's so special to see them making connections," says Bondi, who often sees guests exchanging information once it's time to disembark the train. She has countless stories of her experiences, some of which are documented in a collection of journals she has kept since the beginning of her time with Rocky Mountaineer.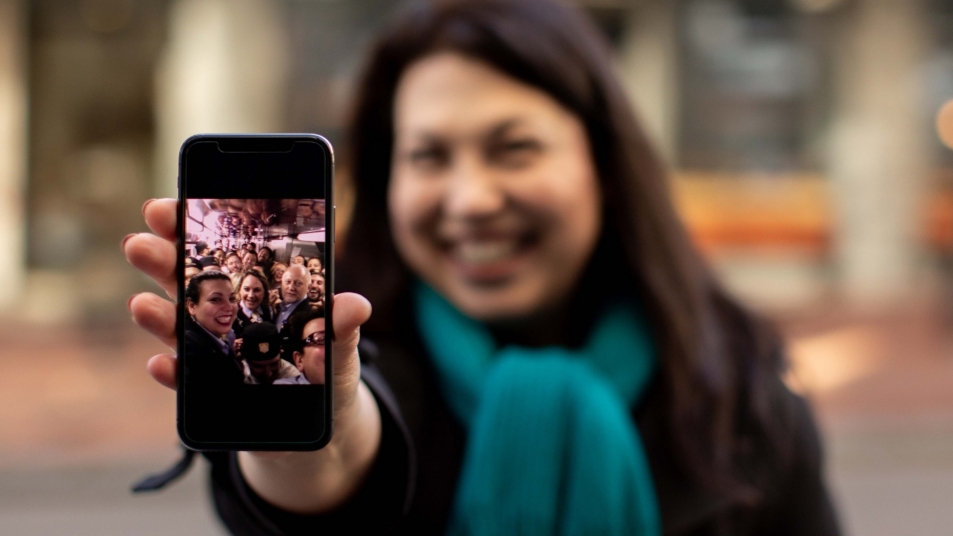 Bondi initially started the journals as a way to hold onto warm memories of her time journeying into the heart of the Rockies. It wasn't until a few years ago, that she was reminded of a deeper value. "I was walking through the train, and a couple had called their Host aside and asked about me," she recalls, smiling. The couple, who had returned to Rocky Mountaineer for the second time after a visit from England 20 years prior, asked if she had been working on the train for a long time because they recognized her voice. "I looked them up, and found their entry in my journal and everything," she exclaims in excitement. These are the moments that have kept Bondi on the train for so long—the ability to be part of so many passengers' travel tales and be privy to their own stories, many revealing how small the world really is.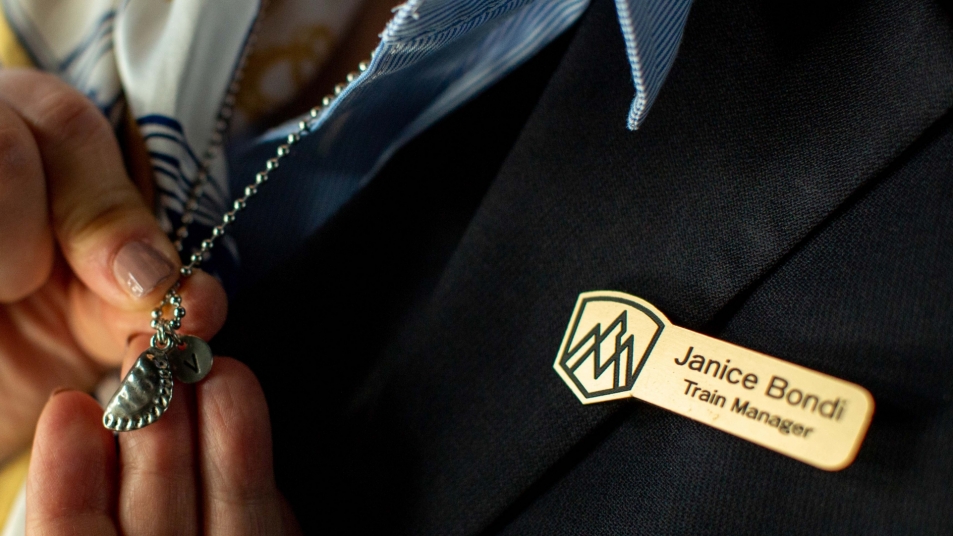 That small world is ever smaller for Bondi and her daughter, Valentyna, who are with each other even when apart. Wherever they may be, the two remain connected by matching necklaces: one featuring an "M" for Mom, and the other, a "V" for Valentyna, symbolizing the way they carry one another on each of their journeys. "I took Valentyna on the train a little while ago and we got to be guests. She just loved it! We ordered a croissant, and there were pancakes with berry compote, and she just kept saying, 'Mommy, oh my goodness this is so good!' It's just so great for me to be able to share that with her," she says smiling.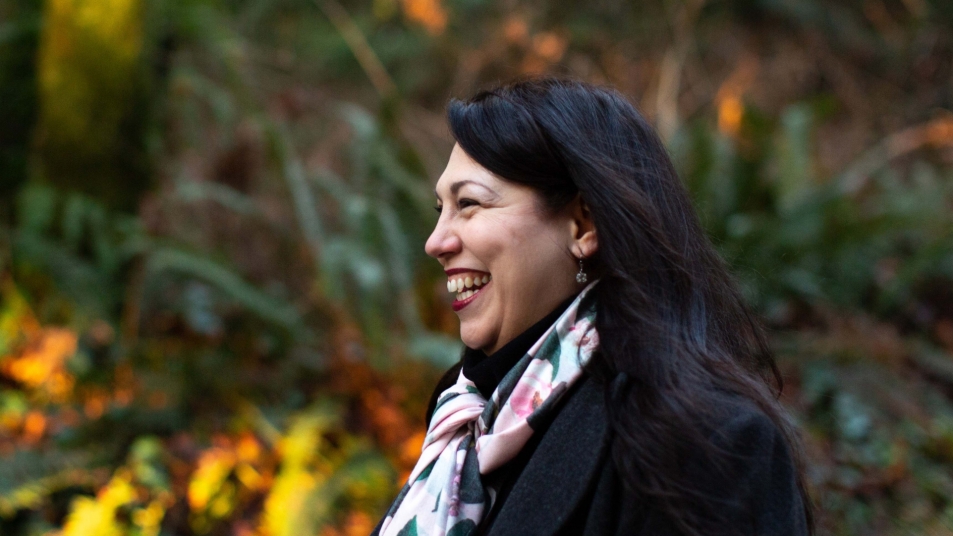 The pace of the modern world can so easily separate us from life's most natural moments of magic and beauty. For Bondi, taking the time to indulge in these moments proves there is equal joy in the journey as there is in the destination. Traveling to the Rockies by rail is an experience unlike any other, and one she keeps coming back for: the peaceful resilience of the commanding landscape, the diversity of animals that call it home, the warmth of human connection she feels every day on the train, and in the towns that line its routes.