Are you excited about your Canadian Rockies train journey? We are, too! We can't wait to welcome you onboard. Our journeys start or end in many different destinations – including Calgary, Banff, Lake Louise and Jasper – but Vancouver is one of the most popular places to start a Rocky Mountaineer rail adventure. So we wanted to give you an idea of what to expect at our station in Vancouver – from check-in, to wave off.
From the moment you enter our Vancouver station on Cottrell Street, you'll know that the journey you are about to embark upon is unlike anything you have ever experienced.
At the station
Follow the signs inside the station for SilverLeaf Service or GoldLeaf Service and check in with one of our welcoming staff, who will give you your boarding pass, and tag your luggage. One of the perks of traveling with Rocky Mountaineer is that your luggage gets sent on ahead of the train by truck and is placed in your overnight hotel room while you're travelling with us. (So that means you should also bring a day bag onboard with you that includes all the items you'll need while onboard the train, as you won't be able to access your suitcase until later.)
Just relax
Once you've checked in, grab a cup of coffee or some juice to help shake off the early morning cobwebs, relax and listen to our pianist, enjoy the beautiful building or browse through our merchandise. Chat with soon-to-be new friends or watch our station video to catch a glimpse of what to expect onboard. Because soon it will be time for the wave-off ceremony! What's a wave-off ceremony? It's how we celebrate the start of your train journey with us.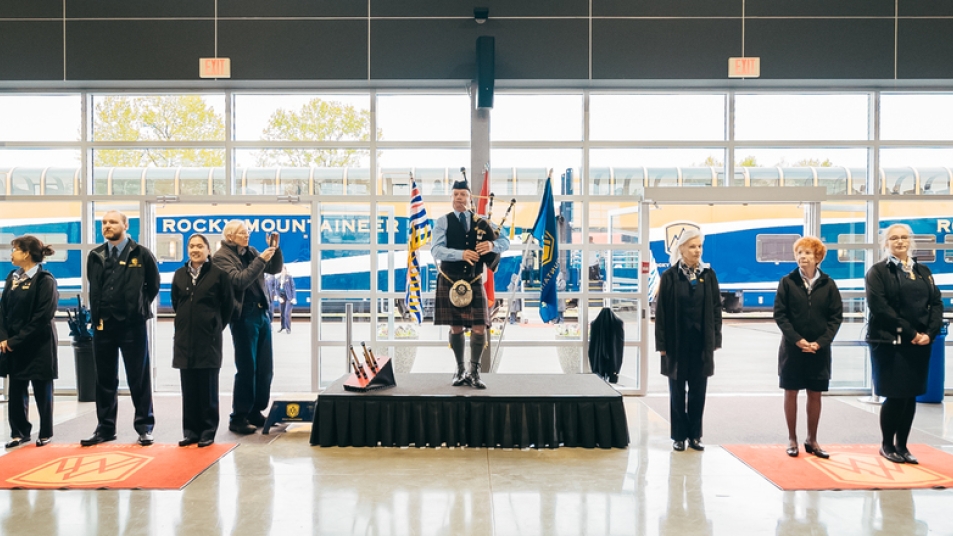 All aboard!
You'll gather 'round for a welcome address and see who has been selected to join the team on stage. Will it be a couple celebrating their 50th wedding anniversary or a young family visiting Canada for the first time? Someone will be invited up to sound the Rocky Mountaineer train whistle, and together we'll call out "All Aboard!" Then you'll hear the sound of bagpipes as our piper leads everyone to the coaches waiting outside. (And even on a rainy spring day, they're still beautiful!)
The wave-off
Once you've been welcomed onboard the train and seated comfortably, the train will begin to pull out. And there you'll see us, beaming wide smiles and waving you off as you embark on your very special journey. That's what may surprise you most about our wave-offs: it's not only you and your fellow travellers sharing in the excitement. It's all of us, too!
You really didn't think we would let your trip of a lifetime begin without a send-off to match, did you?
If you'd like to know more about what happens next, learn more about the experience onboard our trains.