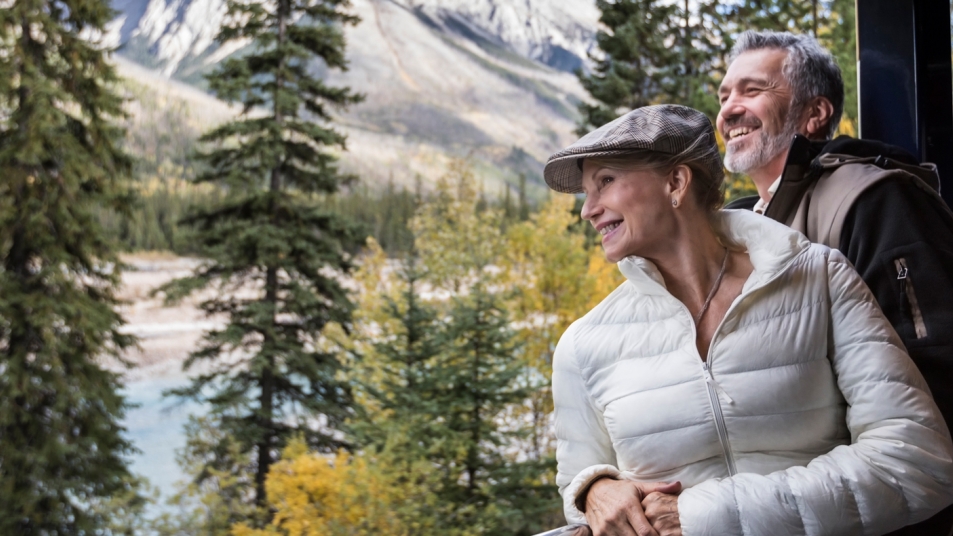 Really, any time is a good time to visit the Canadian Rockies, as each season offers its unique landscapes, highlights and attractions. But if you're thinking of experiencing Banff, Lake Louise, or Jasper as part of a train journey with us, we operate in spring, summer or fall. (In the winter it gets dark early and we don't want you to miss out on those spectacular views!) Our luxury train coaches are custom-built for comfort, with air-conditioning during warmer months or heating during the brisk seasons and offer a stress-free alternative to navigating mountain roads by car. So, when you're thinking about the best time to visit Banff, Lake Louise, or Jasper, all you need to think about is what you want to do and see while you're there!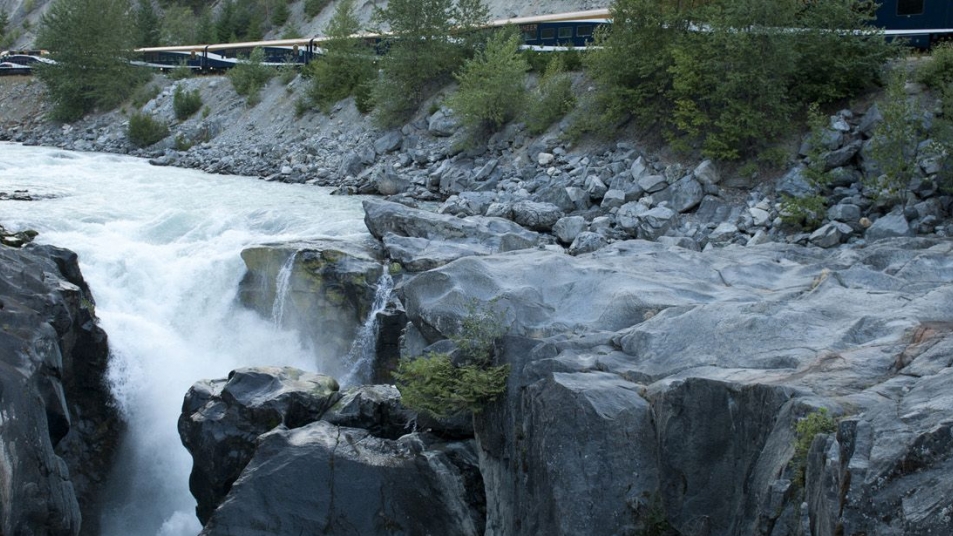 Spring in Banff, Lake Louise and Jasper (April – May)
If you travel in the spring, you'll get a taste of what a Canadian Rockies winter can be like-especially at higher elevations where you'll still see plenty of snow. If you want to see our iconic snowy mountain peaks, this is the time of year to visit. As the snow melts, rivers and waterfalls swell with the spring thaw into breathtaking sights! Expect churning rivers from the glacial melt, and semi-frozen or frozen lakes. At this time of year, birds are busy building nests and bears come out of hibernation, increasing your chances of spotting wildlife in the Canadian Rockies and from our train.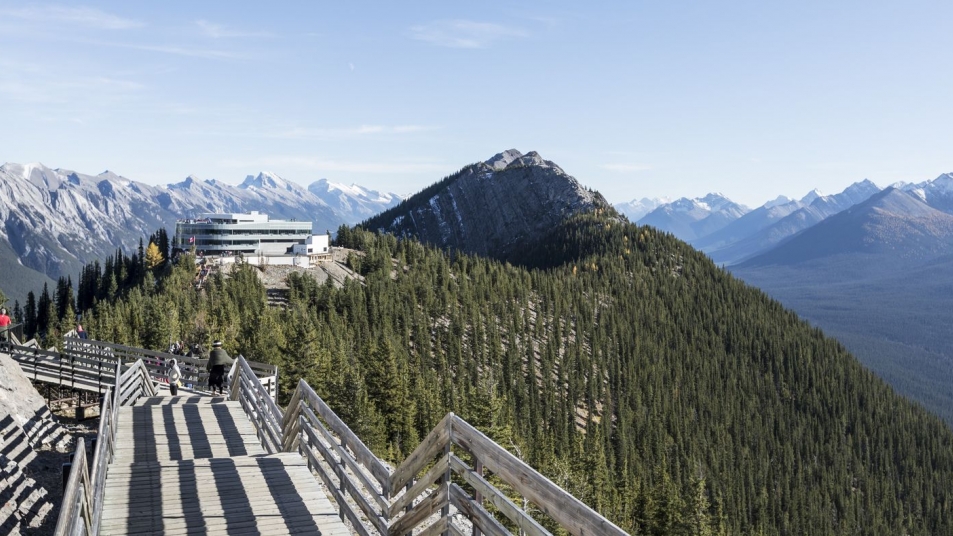 In Banff, Lake Louise, and Jasper, daytime temperatures hover around 10°C - 16°C (50°F - 61°F), cooling off in the night to freezing levels, so make sure you're prepared for the spring weather and know what to pack. Even though most trails are closed at this time of year and Lake Louise will be frozen (it typically doesn't thaw until late May-early June), you'll still find plenty of sightseeing opportunities in and around the mountain towns. Plus, you'll also avoid the heavier summer crowds and longer lines. Ride an Ice Explorer onto the Athabasca Glacier, take the Jasper SkyTram – the world's long and highest aerial tramway – to the top of Whistlers Mountain, or hop on the Banff Gondola to the Above Banff interpretive centre for a bite to eat and a walk along the Sulphur Mountain Boardwalk. When you're ready to relax, check out one of the many soothing spa experiences in Banff, Lake Louise, or Jasper.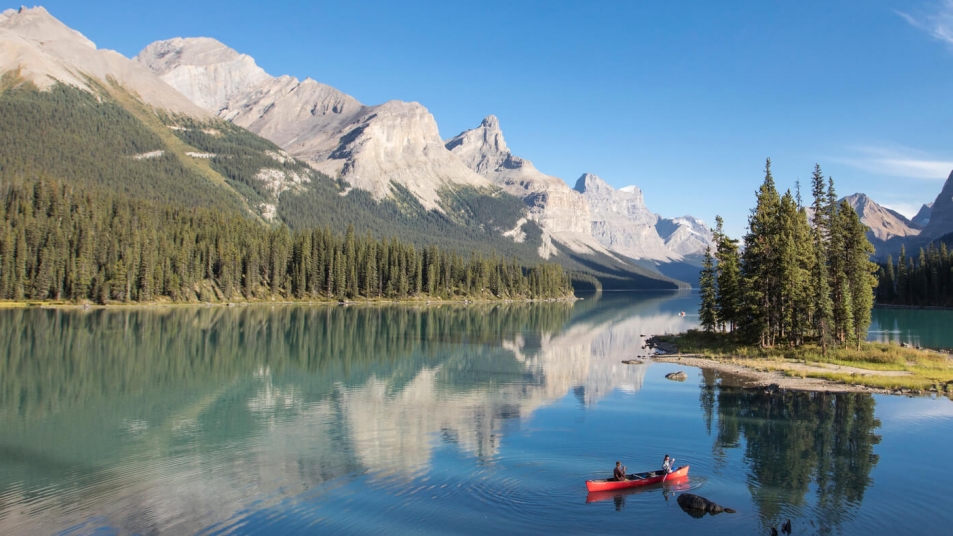 Summer in Banff, Lake Louise and Jasper (June – August)
If you want to make the most of your time outdoors, summer is the season for you - hiking trails are open, lake conditions are ideal for kayaking and canoe trips, and golf courses are in full swing. Keep your eyes peeled in and around town, and while on our train, for young wildlife venturing out as their parents watch over them.
More daylight hours during the summer months mean more time to explore and enjoy cultural events in town. Banff, Lake Louise, or Jasper all have festivities celebrating Canada Day on July 1, and Banff, in particular, is where to experience the Sunset Festival at the Banff Gondola (late June to early September) and outdoor performances and concerts at the Banff Centre for Arts and Creativity. And if you've always wanted to take in the Calgary Stampede (early July), our Vacation Consultants can help you add an extra day or two in Calgary to your package so you can enjoy "The Greatest Outdoor Show on Earth". 
Overall, summer is a popular time to visit the Rockies. Temperatures at this time of year range from 19°C - 23°C (66°F - 72°F) during the day—although it can feel much hotter—cooling right down at night to 5°C - 7°C (41°F - 45°F). If you're not a fan of crowds, consider travelling in the off-season.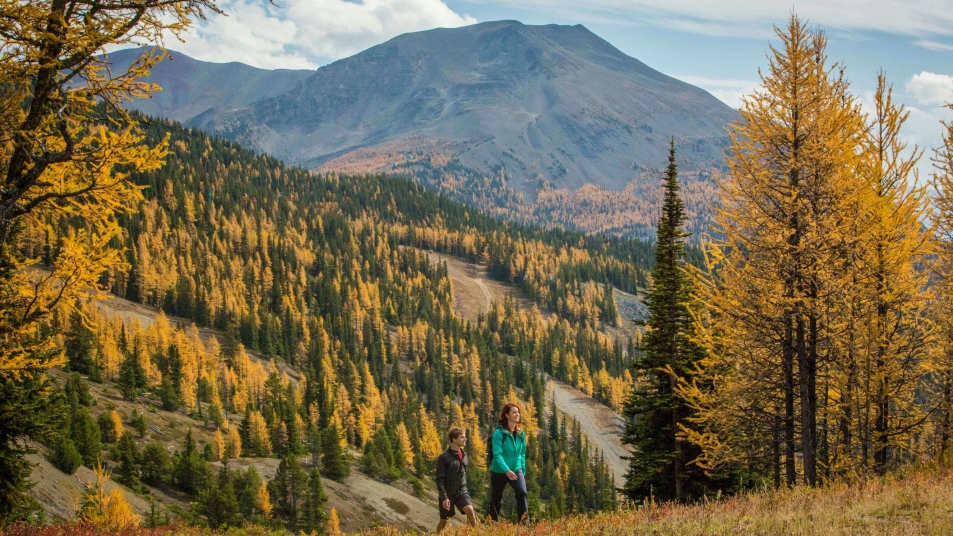 Autumn in Banff, Lake Louise and Jasper (September – October)
Once the weather starts to cool, visitors to Banff are treated to a spectacular display as larch trees turn from green to gold in mid-to-late September. The Larch Valley trail in Banff attracts many outdoor lovers during this time of year, all eager to hike among the golden larches. And wildlife fans are in for a treat as well! Elk rutting season begins in late August and continues until mid-October. Remember to leave a (very!) safe distance when viewing elk during this time of year, especially as the male elk can be very aggressive during the breeding season.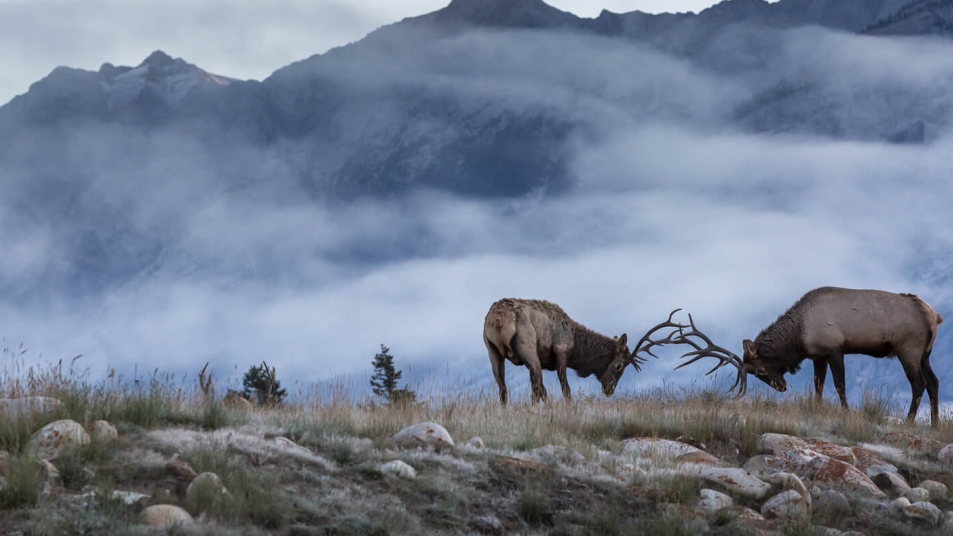 If conditions are right, you might experience one of the season's first snowfalls, lightly dusting the mountain tops. With temperatures similar to spring: 10°C - 17°C (50°F - 63°F) and heading towards freezing levels overnight, it's equally likely you'll see a mix of warm, sunny days – ideal conditions for hiking along the many trails in the area generally open until mid-October. There are also many cultural events to enjoy at this time of year, such as the Banff Whisky Experience (mid-September), and the Jasper Dark Sky Festival (mid-October), a 10-day event celebrating the second-largest dark sky preserve in the world!
Curious as to what weather conditions are like in the Canadian Rockies right now? Take a look at the Jasper, Banff and Lake Louise webcams. Once you've decided when you want to visit the Canadian Rockies, search our packages, and narrow your search by selecting your preferred month of travel.
Of course, if you're planning on taking a journey with us, the best time to go is whenever it works best for you. Celebrating a milestone birthday or a big anniversary, or just a chance to get the family together for a reunion are all great reasons to take the trip of a lifetime together—whatever the time of year!