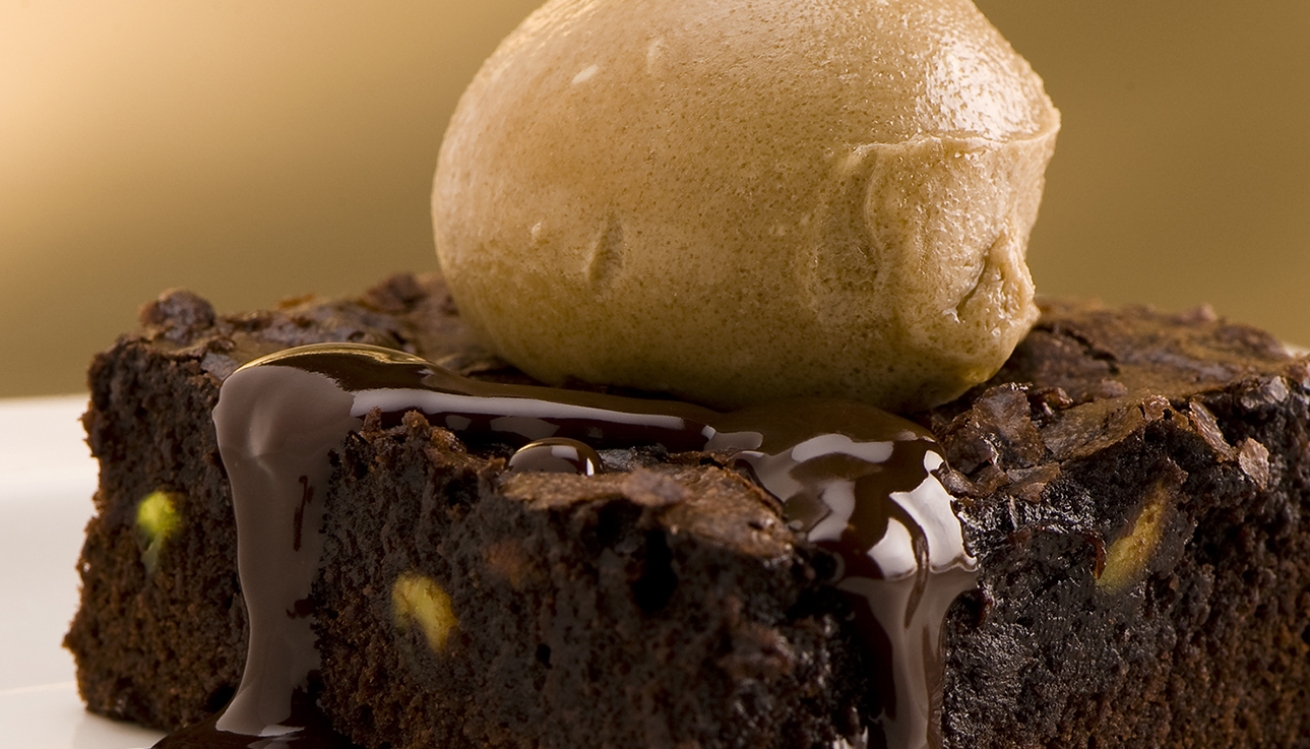 Decadent Dark Chocolate Pistachio Brownie
TOPPED WITH CREAMY HOMEMADE MAPLE ICE CREAM
Serves 6 to 8
Dark Chocolate & Pistachio Brownie
120 g  (

1/2

 cup) butter, unsalted
250 g (1 cup + 2 Tbsp) dark chocolate, 70% cacao
175 g (

3/4

 cup) brown sugar
235 g (1 cup) all-purpose flour
2 eggs, large
14 ml (1 Tbsp) vanilla extract
7 g (1 

1/2

 tsp) salt
90 g (

1⁄3

cup) dark chocolate chips
90 g (

1⁄3

cup) toasted pistachios
Chocolate Sauce
100 g  (

1/2

 cup) dark chocolate chips

30 ml (2 Tbsp) 33% heavy cream

30 ml (2 Tbsp) maple syrup

30 ml (2 Tbsp) water
Maple Ice Cream
6 egg yolks

180 ml (

3/4

cup) maple syrup

1 pinch sea salt

240 ml (1 cup) 33% heavy cream

360 ml (1 

1/2

 cups) 10% half cream
Can be served with or without nuts
Instructions:
Dark Chocolate & Pistachio Brownie
Preheat oven to 175°C / 350°F. Line a 23 cm / 9 inch square baking pan with parchment paper and spritz with non-stick spray. In a medium glass bowl, combine the butter and dark chocolate. Microwave on high in 30-second intervals, stirring regularly, until the mixture has melted together. Stir in the brown sugar. In another large bowl, whisk together the flour, eggs, vanilla and salt. Pour in the melted chocolate mixture and whisk to combine. Stir in  the dark chocolate chips and pistachios. Pour into the prepared pan.  Bake for approximately 30 minutes, until a toothpick inserted into the centre comes out with only wet crumbs, and no batter attached. Cool for 10 minutes in the pan, then carefully lift the parchment paper and brownies out of the pan and place on a wire rack to cool. Cool completely before slicing into desired sizes with a sharp knife.
Chocolate Sauce
Using a water bath (bain-marie), melt the chocolate chips until soft. Add in the cream and maple syrup. Check for consistency and add water as needed if you desire a thinner sauce. Keep warm until ready to serve. If the sauce hardens, use the microwave for a few seconds to soften it.
Maple Ice Cream
Make at least one day prior to serving the dessert. Combine the egg yolks, maple syrup and sea salt in a bowl. In a heavy-bottom saucepan, mix together the two types of cream. Bring the cream slowly to a simmer. Transfer the egg and maple syrup mixture into the hot cream, stirring constantly. Do not boil. Using a wooden spoon, simmer on a low heat until the cream mixture starts to thicken and coats the wooden spoon evenly. Remove from heat and cool down. Refrigerate. The following day, transfer the mixture into an ice cream maker and churn until done. Set aside and keep frozen until ready to use.
Plating
Serve the brownie slightly warm. Drizzle some chocolate sauce around and on top, garnish with fresh in-season berries. Serve with fresh ice cream on top.