Before You Leave Home
Your Guide to the Wild West
Before you venture into the wild, untamed Canadian Rockies, watch this short video on things you should know before you embark on your adventure. It is, after all, good to be a little prepared.
What to Pack for the Canadian Rockies and Pacific Northwest
In Alberta, British Columbia, and Washington State, temperatures vary significantly depending on location, time of day, and season. Kamloops, in particular, may be very warm in the summer, while in the alpine regions, weather can change dramatically in a short time. See average daily temperature chart for ranges.
Average Daily Temperatures Range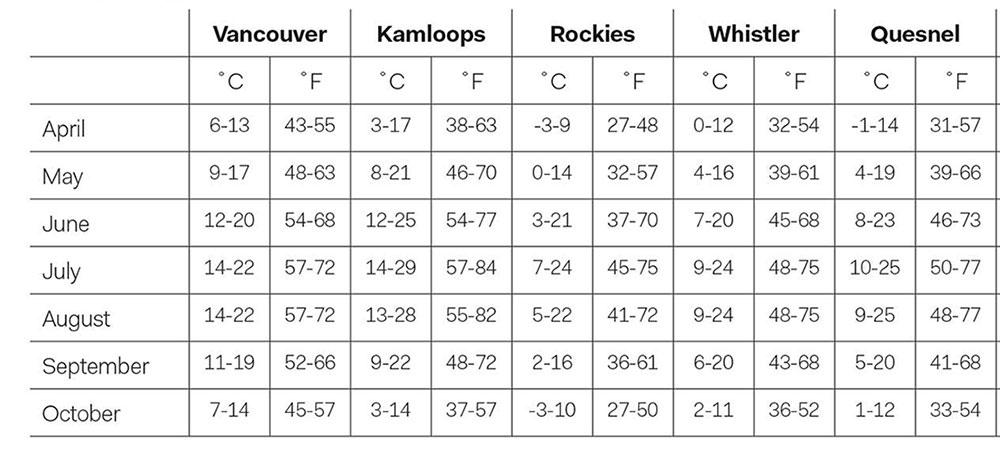 What to Pack while Travelling Onboard Rocky Mountaineer
Dress onboard Rocky Mountaineer is casual. We suggest that guests wear comfortable cool layers as the dome coaches have expansive windows. Please bring onboard a light jacket or sweater as the air conditioning may feel just right for some, but a bit chilly for others. Temperatures fluctuate throughout the day as guests will be travelling through various climate regions. You may start your day in the cooler Canadian Rockies and end the day in a warm desert region.
Due to the natural movement of the train and the spiral staircase in GoldLeaf Service domes, flat-soled shoes with grip are recommended.
For your comfort, we recommend that you bring a day pack or bag which is small enough to fit at your feet onboard the train as there is no overhead or under seat storage and you will not have access to your checked luggage. Please bring onboard:
A hat/cap and sunglasses for sunny days in the dome
All medications, valuables, travel documents and personal items
You may also wish to bring aboard a laptop, tablet, mobile device with headphones, camera and extra batteries. Please note, limited electrical outlets are available onboard the train. There is also no Wi-Fi internet access onboard and much of the train route is out of cell phone range due to the train travelling through remote parts of Canada. There will be cell service available in major urban centers. Please use the outdoor viewing area for phone calls.
Our team will make every effort to keep you comfortable throughout your journey with us.
For Rainforest to Gold Rush guests: your train may arrive in Whistler earlier than your hotel room is available. As we deliver your luggage directly to your hotel room, you will not have access to it until your room is ready. Therefore, we recommend that you bring onboard anything you may need for the afternoon.
Wildfire Information
As the safety of our guests and crews is our top priority, we constantly monitor the wildfire situation in British Columbia and Alberta to evaluate any potential impact on our operations.
With much of BC and Alberta having forested areas, the summer months can see an increase in the number of active wildfires in areas throughout the provinces. According to the BC Wildfire Service, BC's forests and wildland cover over 94 million hectares and the province is confronted by an average of 2,000 wildfires each year. BC's highly trained fire crews are successful in containing 94 percent of all wildfires by 10am the following day. Similarly, the Alberta Wildfire organization expertly responds to wildfires throughout its province.
Should wildfires occur near our routes and affect our operations, we will share relevant information on our website.
Luggage Allowances
Guests travelling onboard Rocky Mountaineer are limited to two suitcases per person (total luggage weight not to exceed 30 kg or 66 lbs) of checked luggage. No one piece of luggage may weigh more than 23 kg (50 lbs). All baggage or articles are accepted and transported subject to Rocky Mountaineer's luggage policy. Oversized items (i.e. sports equipment), may be subject to a surcharge. Some holiday packages have other luggage restrictions due to accommodation or transportation inclusions. Please refer to your travel documents.
Guests are prohibited from carrying firearms, flammable, hazardous, illegal, or radioactive materials, and some food items. Rocky Mountaineer will not be liable for any luggage containing such materials. If you have any questions on specific items please refer to US Customs and Border Protection and the Canadian Border Services Agency.
Please pack your fragile or breakable items in your luggage with care. Rocky Mountaineer is not responsible for any broken items.
Luggage Handling
Mid-point Destinations: Kamloops, Quesnel and Whistler
Your suitcases will be delivered to your hotel room on each night of your train journey. Each piece of luggage must have an identification tag attached which includes a name, return address, and telephone number.
Final Destinations: Jasper, Banff, Lake Louise and Vancouver
If you have booked your accommodation through Rocky Mountaineer in a partner hotel, luggage will be delivered to your hotel. If you have not booked accommodation through Rocky Mountaineer in a partner hotel, your luggage will be available for collection at the station.
Experience Tours and Sightseeing Tours
Please refer to your travel documents for specific details on luggage handling associated with your tour.