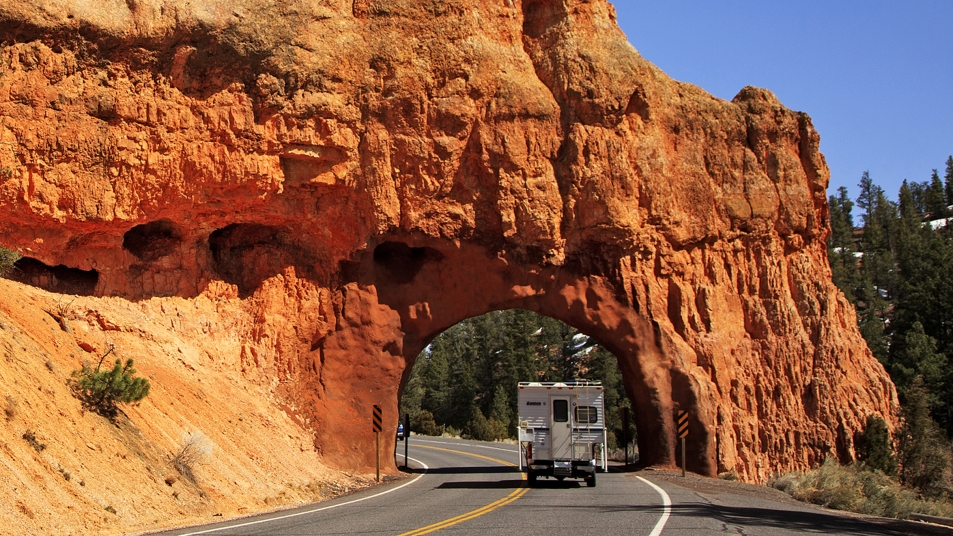 Vast canyons, enchanting landscapes, and mesmerizing red rock formations await you in Utah. Exploring Utah by railway and roadway is one of the best ways to discover it all. One of the most popular attractions in Utah are 'The Mighty 5' national parks, each offering unique and incomparable scenery. We've put together a guide to 'The Mighty 5' so you can explore these stunning national parks with ease, before or after your train journey onboard Rocky Mountaineer.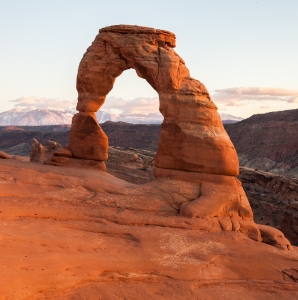 Arches National Park – 10-minute drive from Moab: 8.3 kilometres (5.2 miles)
It's no surprise that Arches National Park is one of the top national parks in America. There are more than 2,000 natural sandstone arches scattered throughout the 73,000-acre park to explore. As the sun rises, rays of light cast a red glow across the dramatic rock formations; and at night, you can take in the stars with uninterrupted views as this park is officially certified as an International Dark Sky Park.
Be sure to have your camera ready as you follow the Arches Scenic Drive to popular viewpoints such as La Sal Mountain Viewpoint, Courthouse Towers, Balanced Rock and more. There are also stops with short scenic hikes along the drive that can be accessed via a walkway for those with less mobility but still wanting to see the main attractions, such as Double Arch (0.9 kilometres / 0.6 miles) and Delicate Arch viewpoints (0.8 kilometres / 0.5 miles). For a bit more of a challenge, a moderate hike of 5.1-kilometres (3.2 miles) will get you up close to see the Delicate Arch. This will take about two to three hours round-trip so pack plenty of water and appropriate shoes if you decide to add this to your itinerary.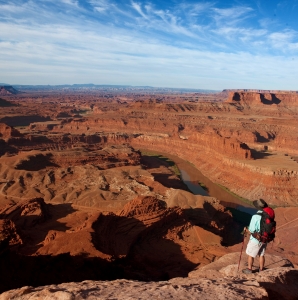 Canyonlands National Park – One hour drive from Moab: 70 kilometres (44 miles)
Southwest of Moab, you'll find yourself in deep canyons surrounded by towering mesas, pinnacles, and spires that stretch across Canyonlands National Park. This canyon was carved out by the Green and Colorado Rivers and is home to one of the most photographed arches in Utah, Mesa Arch. This iconic formation requires a 20 to 30-minute walk on a 0.8-kilometre (0.5 mile) loop trail and is best viewed during golden hour when the sun lights up the canyon with a glowing orange hue. Or, to take in a spectacular view of the whole canyon, drive directly to Dead Horse Point Overlook.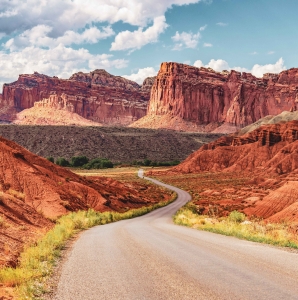 Capitol Reef National Park – 2.5-hour drive from Moab: 235 kilometres (146 miles)
Capitol Reef National Park epitomizes the meaning of a scenic drive as you'll be able to see majestic mountains at every turn. In most parks, the best viewpoints can't be seen from the road and require a hike but here, the road will guide you along the incredible landscape. The 12-kilometre long Capitol Reef National Park Scenic Drive winds through the valley and past the historic Gifford Homestead in Fruita before revealing a vast red rock desert. Take your time and cruise along this journey on your way to your next destination.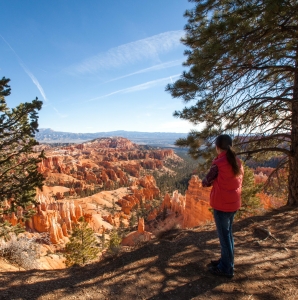 Bryce Canyon National Park – 4.5-hour drive from Moab: 400 kilometres (248 miles)
Where lush forests meet dry deserts and hoodoos stand as tall as trees, Bryce Canyon National Park sits at an elevation between 2,438 (8000 feet) and 2,743 metres (9000 feet) above sea level and covers over 35,000 acres of land. Water and wind over millions of years of freezes and thaws have carved endless fields of distinctive red rock pillars into the plateau, called hoodoos. The red, orange, and white colours of these rocks provide a spectacular view when the sun lights up the canyon. Follow the scenic drive around this national park for awe-inspiring views. There are many viewpoints along the way to capture picture-perfect moments.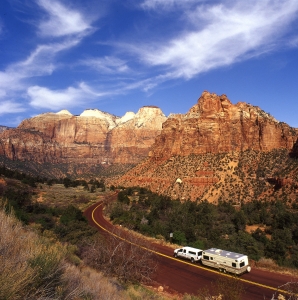 Zion National Park – 5-hour drive from Moab: 555 kilometres (345 miles)
The final national park that makes up 'The Mighty 5' is Zion National Park. Located near the town of Springdale, it is in the most Southwestern corner of Utah state. The valley sits shadowed by mountainous terrain on either side with some of the most picturesque scenery visible from the road–  through the Zion-Mount Carmel Tunnel. Wind your way through the canyon with uninterrupted views, then, park the car and enjoy Zion's free shuttle service during peak seasons and explore remarkable red rock wonders at your leisure.
Whether you begin or end your Rocky Mountaineer train journey in Moab, Utah, we have a wide range of packages that will take you to geological wonders just waiting to be explored. 
It's even better to explore this incredible region by both rail and road. Our nine-day Rockies to the Red Rocks at Leisure package travels between Denver and Las Vegas, and allows you to sit back, relax, and take in the sights with two-days onboard the train and a guided tour by motorcoach. Whichever package you choose, your journey will include unparalleled scenery, world-class service, and locally-inspired cuisine onboard our train. 
Please note: US National Parks are seeing unprecedented numbers this year with longer than expected wait times into the park.