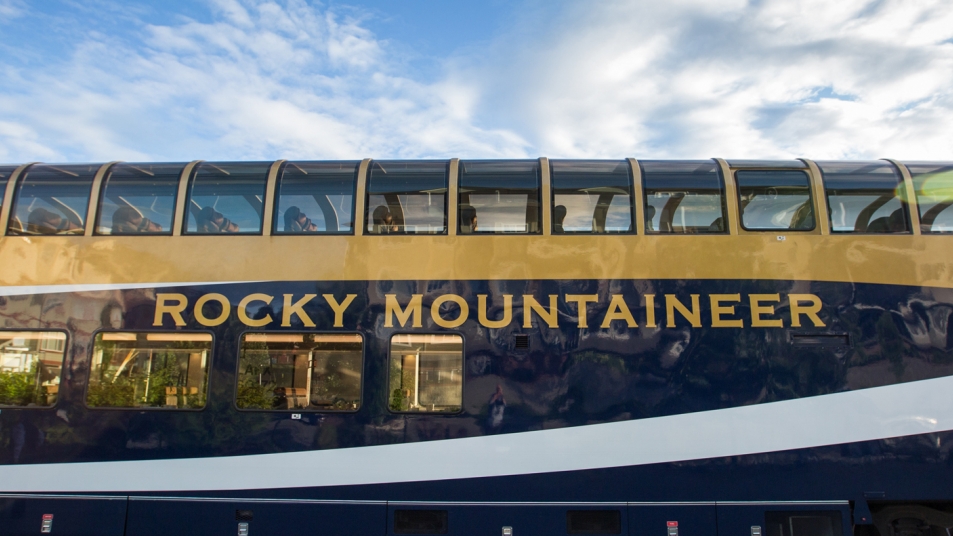 When planning your Canadian Rockies luxury train journey, it's important to select the travel experiences that best meet your needs. One of the most frequent questions we get asked by guests is "What is the difference between Rocky Mountaineer's GoldLeaf Service and SilverLeaf Service?" The answer is that both offer amazing scenery, world-class service, master storytellers, and complimentary meals, beverages and snacks, but there are indeed a few differences between the two service levels.
Here are two videos that will explain the differences, so you can choose the service level that's right for you.
GoldLeaf Service
From the exterior, it's easy to tell a GoldLeaf Service coach from a SilverLeaf Service coach. With a dining room and an outdoor viewing platform on the lower level, plus spacious, reclining seats and full-dome windows on the upper level, our bi-level, GoldLeaf Service coaches stand taller than our single-level SilverLeaf Service coaches. The upper level is where you can relax, stretch out in comfortable, reclining seats and enjoy complimentary beverages and snacks while one of four dedicated hosts share stories about the areas the train passes through, and serve you meals.
Want to stretch your legs, take videos and photos from outside or join everyone in the dining room for breakfast or lunch? Take the spiral staircase to the lower level. Or, if you or a travel companion requires mobility support, our GoldLeaf Service coaches do have an elevator (approved by the Americans with Disabilities Act) – just remember to let your vacation consultant know in advance if you will require any additional support like wheelchair or elevator access, and we'll do our best to make sure everyone is comfortable and taken care of.
On the lower level, you'll find our GoldLeaf Service dining room and the adjacent galley in which our culinary team prepares multi-course, gourmet meals that will keep you well-fed throughout your journey. It's also where you'll find two bathrooms and a door leading to the outdoor viewing platform. Outside on the platform, you can take photos, enjoy conversations with fellow travellers, and experience the sights, sounds, and smells of Western Canada's great outdoors.
Watch the video to learn more about GoldLeaf Service and what it offers.
SilverLeaf Service
If you don't want to miss a second of the ever-changing landscape, our SilverLeaf Service is for you. Once seated, you really won't have to get up again - unless you want to! However, our SilverLeaf Service coaches offer a generous amount of space for you to stand, stretch or look at the view from the over-sized windows.
In SilverLeaf Service, your freshly prepared meals, beverages and snacks are served at your seat, and everything is located on one level. Two dedicated onboard Hosts will look after your every need here in this incredibly roomy coach. These hosts are also great storytellers, too, and will share the history and highlights of the regions we pass through during your journey.
If the views beckon you outside, or if you just want a breath of fresh air, SilverLeaf Service coaches do have a small, more-enclosed outdoor area that can be shared comfortably by one or two people at a time.
Would you like to know more about SilverLeaf Service? Watch the video to learn more.
Want to learn more or ready to book?
Click the Call, Chat, Email or Info buttons located on the right-side of the page if you're on a desktop computer, or select the Question Mark if you're viewing on mobile, to get in touch with our team.