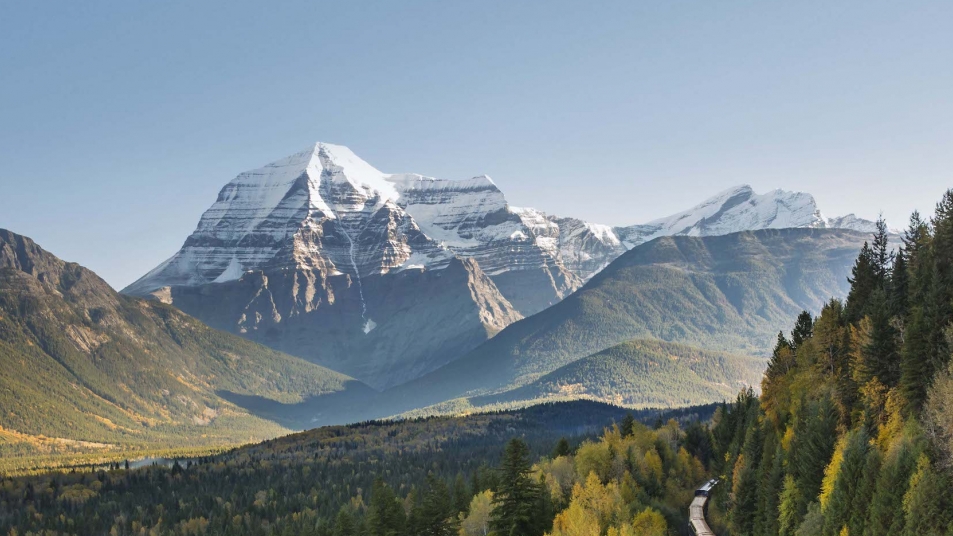 Follow along as chef and comedian Erica Wides and cartoonist, writer and comedian Emily Flake embark on a luxurious train journey to Banff, Alberta and the Canadian Rockies, through some of the most beautiful landscapes in the world.
What you need to know about our Canadian Rockies rail vacations
Our luxury passenger trains travel straight into the heart of British Columbia (B.C.) and Alberta, offering unique perspectives and access to some of the most beautiful areas of Western Canada. With various itineraries that travel between Vancouver, B.C., and the iconic mountain communities of Banff, Lake Louise, and Jasper, our daylight-only journeys offer countless highlights, some of which cannot be reached or seen by car.
From pristine, glacial runoffs to jagged cliffs and beautiful mountain passes, each of our three routes offer exquisite views, as well as a sense of adventure that is impossible to replicate. This is North America at its finest, the way the pioneers saw it. This is the Canadian Rocky Mountains in their most raw, elemental form. Whether passing through the desert-like landscapes along the Thompson River, or slowing down to "roll by" speed to make sure you can snap a picture of Castle Mountain or Mount Robson—the Rockies' tallest peak—our train provides a visual journey as engaging as it is inspiring.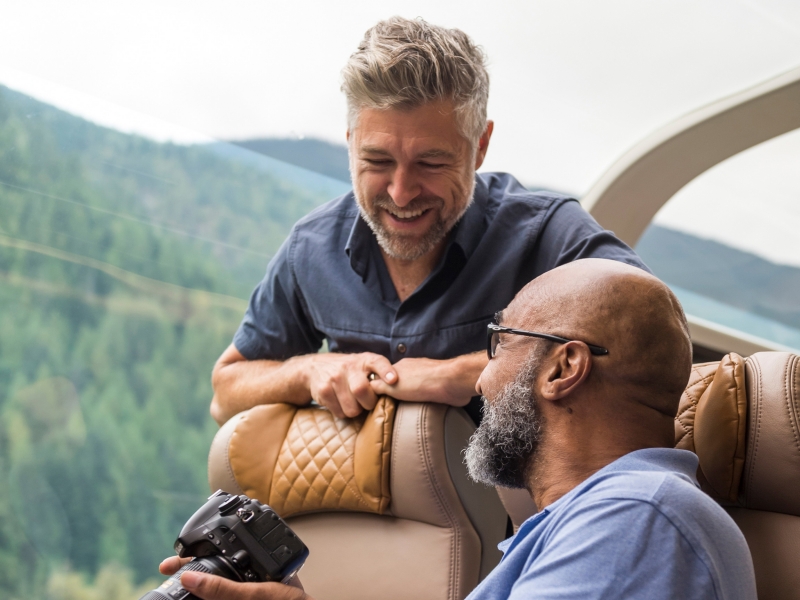 Onboard, you'll get up close to unforgettable wilderness and spectacular landscapes from the comfort and style of our spacious coaches. Enormous glass-dome windows onboard our GoldLeaf Service coaches and extra-large windows onboard our SilverLeaf Service coaches bring the outside in, and seats are wide enough to ensure everyone has the privacy and legroom they need for a relaxing trip. Should an elk, bighorn sheep, eagle, or even a bear make a cameo outside, it's not uncommon for our onboard Hosts to yell "Look on the left!". This is your cue to  leap to your feet to congregate on one side of the coach and catch a glimpse of Canadian Wildlife in their natural setting. That's the thing about train travel—it is never without a sense of adventure. Even the sight of small animals can inspire childlike wonder in the most seasoned travelers.
Along the way, our Hosts make sure that all your needs are catered to: whether it's offering a plate of warm, oven-fresh scones; pouring a glass of local beer or wine from the area that the train is rolling through; or answering questions one-on-one about the landscape's history and geography. Part of the fun on this trip is the rapport you'll build with fellow travelers and  with your designated Hosts. Each anecdote, each joke, each song, connects you to and immerses you in the scenery; these are what transforms each of our journeys into a moving, emotional experience.
Our trains embark or arrive in Vancouver—where you can spend a few days eating and exploring your way through the city like a local—and you can chose from the two-day First Passage to the West journey, which forges across the mountains, valleys, and canyons through to Kamloops, B.C. and then Lake Louise, before concluding in Banff, Alberta. Our Hosts illuminate this rugged landscape with tales of the legendary explorers who braved their way across it, from Hell's Gate to the Spiral Tunnels; and the discovery of Rogers Pass and how it opened up exploration of Canada's West. Similarly, our two-day Journey through the Clouds route also overnights in Kamloops and then heads north to Jasper, Alberta, passing close by to the remarkable Pyramid Falls and the mighty Mount Robson. Our longer three-day Rainforest to Gold Rush route is much more than a journey from Vancouver through Quesnel, B.C., and on to Jasper. As the train winds its way north through the Fraser Canyon, you will learn about the gold rush that brought more than 10,000 prospectors to this region more than 160 years ago. With the Hosts' onboard commentary, you not only see the landscapes, but really experience them. These aren't just mountains and valleys and rivers through which the train passes; they are landmarks and monuments to the adventurers and people who claimed them before Canada was Canada, a living geography of this country's history.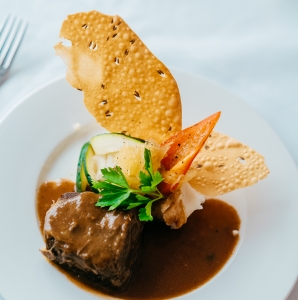 During mealtimes, the cuisine onboard is no less impeccable. Award-winning, internationally trained chefs Jean Pierre Guerin and Frédéric Couton have created menus as inspiring as they are enticing. Local ingredients take center stage with dishes such as garlic-herb risotto with local market vegetables, B.C. steelhead salmon filets with smoked sea salt, and Alberta beef short ribs braised in Okanagan Valley Merlot. In GoldLeaf Service coaches, meals are served in an elegant dining room on the lower level of a bi-level, domed coach. In SilverLeaf Service, meals are served seat-side.
At the end of each day on board, when our train pulls into its station for the night and it's time for bed, you are quickly and efficiently transferred to our local hotel partners, where your luggage is waiting inside your hotel room, creating a seamless experience at every step along the journey. And each morning, the sense of excitement among our guests is palpable—they're excited to get back on board, excited to hear the locomotive's engines, and excited to see which adventures each new day will bring. No matter where you embark, no matter which journey you choose, one thing is certain: It will be a truly moving experience.